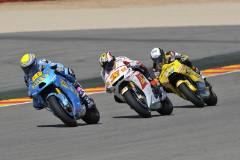 With Loris Capirossi ruled out of the Spanish MotoGP at Aragon, it was left to Alvaro Bautista to be the sole representative of Suzuki.
This could be a practice run for what the future holds for Suzuki, as an announcement is expected at the next round in Japan as to the future of the Rizla Suzuki team – rumours suggest that they may just field one bike next year, with Bautista as the sole rider. It is also speculated that if Suzuki can sign Randy de Puniet for 2011, then they may continue to run a two bike team in 2011.
Despite speculation on the future of the Rizla SUzuki team, Álvaro Bautista secured his third successive eighth place finish today after a battling performance at Aragon in Spain.
Bautista got a good start from 12th on the grid, but was blocked at the first corner and couldn't capitalise on it to make up as many places as he wanted. He immediately got involved in a five rider fight, which saw the 25-year-old Spaniard battling for a top-six finish. He first had to deal with Frenchman Randy De Puniet and Bautista passed him on the seventh lap as he then chased after the riders in front – who had by now made a bit of a gap. Bautista caught fellow countryman Hector Barbera, but was unable to match him for speed down the long back-straight at Aragon. On the final lap Bautista passed Barbera, but was then put under immediate pressure from behind by Marco Melandri. The Suzuki man kept his head and protected his lines through the final turns to score a hard-fought, but well deserved eighth at the flag.
Álvaro Bautista:
"I had some great battles out there with De Puniet, Barbera and some other riders and I really had fun during the race. At the beginning I had a bit of a problem when I was braking and I felt a lot of moving in the front, so I couldn't keep up my speed entering the corners. I wasn't able to push how I wanted, but luckily after a few laps the bike started to work how I wanted it to – it was much more like the bike I had in qualifying so I was able to find a good rhythm. In the middle of the race the performance started to deteriorate and it was getting very difficult to follow Barbera on the fast back straight. This made it very difficult to overtake him and if I did manage he immediately came back past on that straight, so that made me lose more time on the guys in front and the riders behind started to catch us. I had to fight right until the last corner on the last lap to keep eighth place once I'd got past Barbera, I was forced to close every line and in the very last turn Melandri tried to come past but I was able to block him. Today the bike was probably not perfect because the tyres started to slide from the middle of the race onwards. I fought as hard as I could and eighth is not a bad result, but I certainly think we can do better."
Paul Denning – Team Manager:
"Álvaro's pace today compared to the top-six group was a little bit further away than at Misano two weeks ago. Maybe the race-day setting wasn't quite as good as then, but most importantly he toughed it out and fought with all his heart to make sure that he finished at the front of the group of riders he was with, for another solid eighth place. As Álvaro keeps finishing races in more competitive positions his confidence will grow and as he pushes harder the team's understanding of what he needs and his experience, grow together.
"We've high hopes for Álvaro, Loris and the GSV-R's performance in both Japan and Malaysia and we will pack up tonight for the fly-aways in good spirits – we'll certainly be looking to end the season in a lot more positive way than it started."
Popularity: 1% [?]