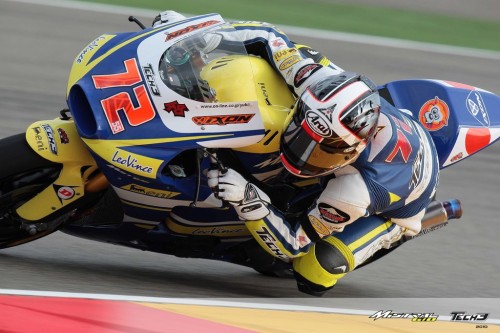 Yuki Takahashi produced a heroic ride that late friend and compatriot Shoya Tomizawa would have been proud of this afternoon, the Tech 3 Racing Team rider finishing the Motoland Aragon Moto2 race in a deserved 12th position.
Takahashi started way down the grid in 26th place after a problematic weekend had seen him unable to find an optimum race set-up in practice and qualifying.
But inspired by an impeccably observed minute's silence in memory of Tomizawa earlier this morning, Takahashi immediately set about fighting his way into points scoring contention from the start of the 21-lap race.
Takahashi made up eight places with an aggressive opening lap and by lap seven he'd superbly forced his way into 14th position. In gloriously sunny but windy conditions, Takahashi continued to excite a large crowd of 70,124 fans at the start-of-art Motorland Aragon track and by lap 19 he'd moved into 12th position.
Despite a rousing late effort to improve his position, Takahasi was just unable to move into the top ten as he was locked in an enthralling dice with Stefan Bradl, Thomas Luthi and Claudio Corti. He finished just over a second behind Bradl in ninth place, a remarkable achievement considering his low grid position.
Raffaele de Rosa had another disappointing conclusion to a weekend that had promised to deliver his best ever result in the Moto2 class.
The Italian started from tenth place on the grid but was unfortunately handicapped by a minor engine problem that made it difficult for him to sustain a top ten challenge.
Pushing hard to try and compensate for a lack of acceleration, de Rosa crashed out of 15th position on the 11th lap.
Yuki Takahashi 12th 76-points
"As I expected it was a quite a tough race because we weren't able to find a good setting all weekend. I had a good first lap and made up quite a few places but after ten laps there was quite a big drop in grip and it was hard to drive out of the corners. I got into an exciting battle at the end and perhaps with a little bit more traction I could have made an attack to move into the top ten. I have to be satisfied with scoring points though considering I started in 26th place on the grid. The next race is my home race in Japan and I'm really looking forward to it. I'm determined to be closer to the front to put on a fitting tribute to Shoya in front of the Japanese fans."
Raffaele de Rosa DNF 4-points
"I was hoping for a positive result because after the qualifying session I felt I could be fighting for my first top ten in the Moto2 class. But I had a problem with the engine in the race and it wouldn't accelerate like normal and this made it difficult for me to fight. As the race wore on it got worse and worse and with this problem it was impossible for me to even stay in the slipstream and I couldn't defend my position on the brakes. We will investigate to see what happened and hopefully that first top ten is not too far away."
Herve Poncharal – Team Manager
"Today's result was decent without being anything special or close to what we expect. Yuki had a difficult weekend and it has not been an easy time for him having to deal with the loss of his friend Shoya Tomizawa. We tried a few new things on the bike without finding a good direction because conditions were changing a lot all weekend. He was down the grid but he produced a very strong recovery and he managed to get into the points and by the end he wasn't so far away from ninth. So with what he has had to deal with he can be proud of his performance and I'm sure Shoya would have appreciated that type of spirited display. Raffaele has unfortunately crashed again when he was looking good for a strong result. It is a shame because it would have been good to have both riders in the points. Now we have a very tough period in the championship with five races in six weeks, starting with Yuki's home race in Japan. We will be looking to fight much closer to the front and end the season in positive fashion."
Popularity: 1% [?]