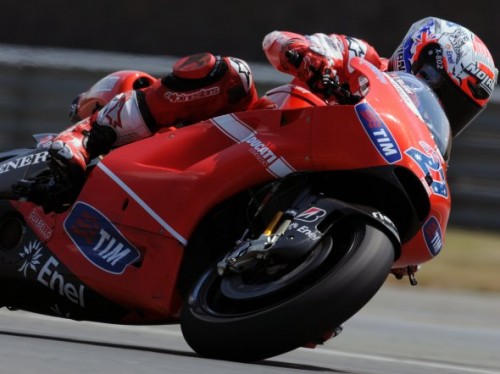 Casey Stoner took his first victory of the 2010 MotoGP season in dominant form today at Aragon.
Starting from pole Stoner had an early exchange with Jorge Lorenzo for the lead, but eventually settled it in his favour after a few turns of the Spanish track.
Dani Pedrosa was swallowed up at the beginning of the race and found himself in 5th position with Ben Spies, Nicky Hayden, Lorenzo, and Stoner in front of him. Pedrosa had the pace however, and managed to fight his way through to second position and was slowly, but steadily, taking chunks out of Casey Stoner's lead. Stoner responded and eventually won by a margin of over 5 seconds.
The race was defined by 3 main battles at the front – Stoner Vs Pedrosa for first, Lorenzo Vs Hayden for 3rd, and Spies Vs Dovizioso for 5th. The Hayden and Lorenzo battled was settled on the final lap when Nicky Hayden put a bold inside move on Lorenzo making it stick and also slowing Lorenzo down in the process to claim 3rd.
Spies and Dovizioso had an aggressive but skillful exchange during the last quarter of the race, with Spies doing everything he could on the turns to negate the top speed advantage that Dovizioso had on the straights – Spies eventually won the battle, and Dovizioso unfortunately crashed out on the last lap.
Aragon MotoGP Race Results:
1. Casey Stoner AUS Ducati Marlboro Team 42m 16.53s
2. Dani Pedrosa ESP Repsol Honda Team 42m 21.678s
3. Nicky Hayden USA Ducati Marlboro Team 42m 26.026s
4. Jorge Lorenzo ESP Fiat Yamaha Team 42m 26.11s
5. Ben Spies USA Monster Yamaha Tech 3 42m 30.301s
6. Valentino Rossi ITA Fiat Yamaha Team 42m 43.86s
7. Marco Simoncelli ITA San Carlo Honda Gresini 42m 45.041s
8. Alvaro Bautista ESP Rizla Suzuki MotoGP 42m 51.784s
9. Marco Melandri ITA San Carlo Honda Gresini 42m 51.923s
10. Aleix Espargaro ESP Pramac Racing 42m 51.997s
11. Hector Barbera ESP Paginas Amarillas Aspar 42m 52.052s
12. Colin Edwards USA Monster Yamaha Tech 3 43m 1.89s
13. Hiroshi Aoyama JPN Interwetten Honda MotoGP 43m 4.849s
14. Mika Kallio FIN Pramac Racing 43m 14.577s
DNF:
Andrea Dovizioso ITA Repsol Honda Team
Randy de Puniet FRA LCR Honda MotoGP
Popularity: 1% [?]