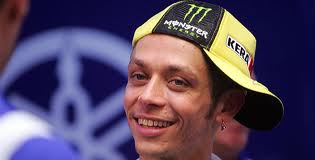 After the Monday's testing session at Brno, Valentino Rossi held another press conference to allow journalists to quiz him a bit more – a few questions were asked about the recent testing session that he had just completed on his Yamaha M1, and then the talk swiftly moved to his new contract with Ducati for 2011.
Read the transcript of the Q & A session with Valentino Rossi below:
Q. How was the test?
Valentino Rossi: It is a good test for us, because we understand different things, and maybe we understand also why yesterday we had a problem [during the Czech Grand Prix]. Today we changed quite a lot the setting of the bike and I have a better feeling with the front. So I'm happy, I'm confident we have found the right way to work in the next races. So it is an important test. And I want to clarify that yesterday I said that we don't understand why, but the test of today is very important because we understand maybe why [now]. We have a reason.
Q. What was the reason?
VR: Setting with the front. And for some reason on Saturday I was okay, but on Sunday I don't have the same front feeling. Today I was able to do good lap times. Unfortunately it rained. I had another front Bridgestone to try that Colin says is better, and I have another new soft tyre, so maybe it's possible to also make 1m56s. But anyway, we hope that this setting works also for the next races.
Q. Did you try any other new parts today?
VR: I tried some new parts for the engine, that maybe we can use in the last four or five races and are quite good.
Q. More power, more acceleration?
VR: A little bit more top power.
Q. And you think it's a step forward?
VR: It is a small step. Small but positive.
Q. You also tried the new Ohlins forks?
VR: No, I didn't try the fork, because Yamaha don't give them to me to try. So, yeah, yesterday I was very upset for this, because we have eight races to go, not two or three, and I want to make, like always, 110% of my effort for the second part of the season with Yamaha – for the last races for me with the M1. And I expect also the same effort from Yamaha. They say to me that they don't use this fork in the next races, so it is a fork for 2011. This is easy to understand, because the fork from the outside is different, so we will understand if this is the truth or it is a lie.
Q. Since yesterday it's official you're going to Ducati, a dream come true for many Italian fans. What does it mean for you exactly?
VR: It is good. Is a good feeling, and especially because I avoid all the people in Italy from the man who sells the newspaper to the people who make the coffee who say: 'Why you not go to Ducati? When you go to Ducati?' So this is more easy [laughs].
You know, it was a constant change, the change was not black and white, I go or I don't go. I started to think at the beginning of the year. At the beginning of the season I spoke to Ducati. I felt Ducati is a lot more different than in the past, a lot more open to fix all the important things of the contract together. So from that moment I start to think.
In general I have two or three important things. First, at the end of this season, Masao Furusawa retires, and stops work. So for me, it was important, this seven years Furusawa was always the number one of Yamaha. So without him, I don't know what will happen. So for this I was quite worried.
And also I have the feeling that my work here in Yamaha is finished. So the situation changed a lot. We did a great job, fantastic, great emotion, but we modified the situation from 2004 in positive, because now the bike is fantastic, maybe is the best one, and Yamaha have great riders, especially [Jorge] Lorenzo but also [Ben] Spies is fast. So it looks like for me here, the time is finished, you know? So I need a new adventure, some new experience, but especially a new motivation. So, I decided for Ducati.
Q. You have already been in contact with Ducati in the past, there were discussions years ago, and there was never a positive outcome. What exactly is it that you need to work well with Ducati?
VR: So, with my experience I know what I need in the contract to be calm and work in the right way, and like I say before this time Ducati is a lot more open to find a compromise.
Q. Can you give us details about what the changes were?
VR: Ah, yes, so, first I heard somewhere that it is a money choice, but I want to say that this is not true, because the money I will take from Ducati is exactly the same money as Yamaha offered. So there is no difference, zero difference. It means also PR days and days of work outside the grand prix and work into the weekend, all these things.
Q. How important is it to take your crew with you? Is that confirmed now?
VR: No, for me it's important but it is a crew choice, because everybody have different ages, different programmes for the future, so they have to decide.
Q. What are your feelings? Will Jeremy [Burgess] come with you?
VR: I hope yes, but I don't know.
Q. Both you and Casey [Stoner] are switching bikes at the end of this year, will you be asking for more testing?
VR: I think there is already a plan for more testing next year, because everybody understands that like this it is not enough. So we test less than half than Superbike, more than less than half! So before we had too much testing maybe, but now, in general no tests. And also for this reason, I expect that Yamaha will let me try the Ducati in Valencia, because our story is a different story, and I give more to Yamaha from 2004 to now, I improve a lot the bike and all the team, so if they are fair, they have to say yes for my test in Valencia.
Q. Next year when you race the Ducati, you'll be 32, seven years older than when you made your last change. Is this going to be more difficult than the last time?
VR: For me, is easier about bike, because for sure the Ducati is more competitive than the M1 in 2003, but more difficult about me, because I am older, and I have very strong rivals. But we have to try, no?
Q. You've always been curious in the past about trying the Ducati. What are you most looking forward to about riding the Ducati?
VR: So, I think that, I always speak with Filippo Preziosi, and I see in him the similar behavior that I saw in Furusawa in 2004. He wants me and he trusts in me and he thinks that together we can improve the Ducati, so I'm curious. I think this year the bike become a little bit easier to ride, but I think we can modify the bike like we want.
Q. Casey now has not won for 11 races on the Ducati. Are you worried that perhaps the Ducati does not have the potential?
VR: For me, the potential of the Ducati is quite good. It is similar to Yamaha, maybe the M1 is a bit better. So I change from a better bike to a little bit worse bike, but not a big difference.
Q. So you think it should be winning races now.
VR: I have to try, but I think it is not impossible.
Popularity: 1% [?]