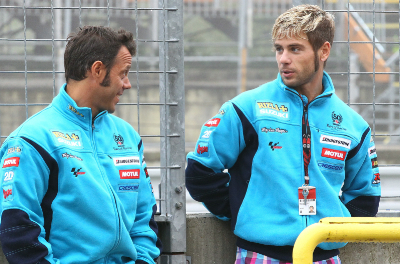 Alvaro Bautista has had plenty of luck this season……it's just that it's all been bad.
His fortunes showed no sign of changing at Brno today when he suffered a crash in the morning practice session and was catapulted off his bike in a 140km/h highside.
Bautista was taken straight to the hospital with a suspected spinal injury, but further examinations and a CT scan showed no fractures and just some heavy bruising to his back.
Bautista may not race tomorrow, he will take part in the morning warm-up session and make a decision after that. If he chooses to race he will start from the back of the grid and will be there purely to make up the numbers on an already small grid.
Álvaro Bautista:
"Fortunately there is nothing broken, so this is the most important thing and tomorrow I will try and do the race. The crash was because as I entered turn three I lost rear grip and I couldn't do anything about it. I did a big jump in the air and I could do nothing to save it. Tomorrow morning I hope I feel much better and I will try to race because I need to do as many kilometres as I can."
Loris Capirossi:
"We have worked hard today and although we went back a bit this morning it has been a good day. We did quite a lot of work on the engine management side of things and the team did a good job there. We tried two different settings this morning, but ran with just one this afternoon and it worked quite well. The time is not the best because I feel we could go quicker and I know I can go quicker, so I am optimistic for tomorrow and I am sure we can be competitive if the weather is good."
Paul Denning – Team Manager:
"The best news from the qualifying session didn't even come from the race-track, it was the report back from the hospital that Álvaro's CT scan had shown no broken or damaged vertebrae and apart from severe bruising he's fine and will attempt to race tomorrow. After the bad luck he's had with injuries this year it's nice to have the roll-of-the-dice for once and that he won't be forced to miss the next few races is a big boost.
"Loris has been building steadily over the weekend and I think there is still more to come from him and the bike here at Brno. The front of the fourth row isn't too bad a place to start and I'm sure that irrespective of conditions Loris will be giving it everything tomorrow afternoon."
Popularity: 1% [?]