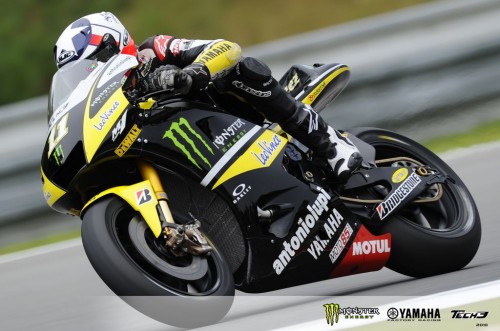 Ben Spies was arguably the star of today's qualifying session for the Czech MotoGP.
Spies took second place to mark his maiden front row qualifying position in MotoGP. For a while he was actually sitting in first place, but Dani Pedrosa spoiled any hopes of a pole position when he put in a lap that shaved three tenths of the time set by Spies.
It's hard to know if Rossi and Lorenzo would have had a chance to put their factory Yamaha's in front of Spies, as they both suffered lowsides in the final minutes of the session.
Ever the master of the 'understatement', Spies declared that he was "really happy" with second position.
Ben Spies 2nd 1.56.846 – 24 laps
"My goal was to be on the second row and I didn't think the front row was possible, let alone a pole position, so I'm really happy. From the start of the weekend every change we have made to the bike has been better and that doesn't usually happen. I had a decent pace so I was confident I could have a good qualifying. When we put the second soft tyre in I got into first position and I thought people would go faster. I did a really good time at the end but when I saw I was still up there I thought, 'I could do this.' Dani did a good job and I didn't have those last three tenths anyway and the time I set was a good time for me. It would have been nice to have a pole position but at this point just being on the middle of the front row is a great result for the Monster Yamaha Tech 3 Team and myself. I'll try and get a good start and if I can latch onto those guys for the first six or seven laps I can put together a good race. I've struggled in the first few laps in some races but here I've been able to get into a fast rhythm pretty quick, so I'm looking forward to it. This is just qualifying but it gives you confidence for the race. I've had a podium in my first full season and a front row is another box ticked and that's very satisfying for me."
Colin Edwards 7th 1.57.222 – 24 laps
"That's my best qualifying for a few races and it was looking really good for a while when I got myself into the top three after I used the first soft tyre. Unfortunately I just couldn't quite get the best out of the last two soft tyres I had at the end of the session. You have to push so hard to get a good time that you wear the front tyre a lot. It is only a small drop because the Bridgestone front is awesome, but it was enough to make the bike not feel as balanced and I struggled to get the bike turned. I just didn't have the confidence to push as hard as I wanted with a new rear tyre and used front. But I know when the grip is the same on the front and the rear that we've got a really competitive package. I'm really happy with the bike and the new front-end geometry setting is helping me a lot. I can just ride with more confidence and comfort and the bike turns much better with more weight on the front. We've finally got the chassis working pretty good and I'm riding good, so I'll hopefully get my first top six at this track. It has been a bogey track for me in the past but I'm confident I can get my best result here. Congratulations to Ben too for his first front row. He's been riding awesome and it is great for the Monster Yamaha Tech 3 Team."
Popularity: 1% [?]