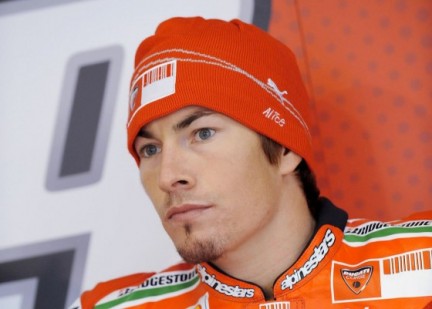 More announcements are coming thick and fast at Indianapolis this weekend about who will ride where in MotoGP for next year. So far Yamaha have confirmed that Ben Spies will step up and take Valentino Rossi's place in the factory Yamaha team from 2011, and now Ducati have confirmed that they have re-signed Nicky Hayden to the factory team for two more years.
Nicky is no stranger to having Rossi as a team-mate, they were last together at Repsol Honda in 2003.
Nicky Hayden said:
"I am very proud to be signing for Ducati again. Last year I felt like I rode for Ducati but now I really feel as if I am a Ducati rider. The team, sponsors and Ducati fans have really taken me in and supported me a lot and I really hope to pay them back with the results they deserve.
"Next year I'll be teamed with some guy named Rossi who knows a little something about bikes! We're going to have a strong squad – I won't predict results but I have no doubt this team will have some real passion, real worth ethic and a lot of fun. It is the start of a new era at Ducati and it is an honour for me to be a part of it," added the 2006 world champion.
Ducati Corse Director Filippo Preziosi siad:
"We are really pleased that Nicky will be staying with us for the next two years. It is no secret that he is a rider who never gives up, his whole racing history shows it. As a person his tenacity is an example for us all because he shows us that nothing is impossible if you truly believe. His progress since arriving at Ducati has been impressive and I am sure this trend will continue in the future.
"Nicky is also a special rider because of his attention to every detail and for him having Valentino as his team-mate means a huge contribution towards the development of an even more competitive motorcycle. I think it is these characteristics that have won the hearts of all the Ducatisti and that is the reason why a Ducati is the bike for him right now."
Popularity: 3% [?]