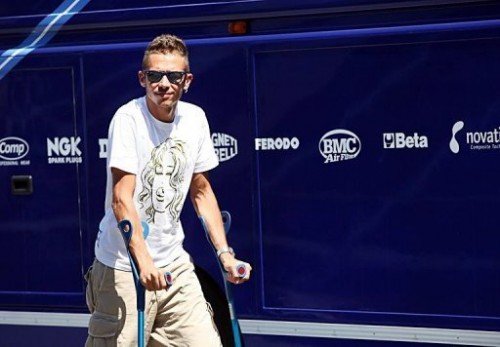 Valentino Rossi hosted a Q & A session for the press in Germany following today's practice session. Rossi talked about his return to MotoGP after breaking his leg a month ago at Mugello, and talked at length on how he felt being back in the paddock and on the bike.
Read the transcript below:
Q. How are you feeling after the session?
Valentino Rossi: I'm happy because I feel quite good on the bike. This is the most important thing. This track helps me quite a lot, because it has a lot of left-hand corners. So it's a good track for coming back.
My leg is good. I had some pain, but I can move on the bike and I can ride the bike like I want. I feel better than on the Superbike, because my bike is more comfortable for my riding style and my riding position.
And I'm finally very happy about the shoulder. We worked a lot in this period and I have a lot less pain compared to Mugello. This is so important, because the shoulder gave me a lot of problems riding.
So we have to understand my physical condition tomorrow after today's practice – if the leg has some problems. But I feel good. So I think it's possible. The only concern is doing 30 laps in a row on Sunday.
Q. Is there anything you're finding difficult on the bike?
VR:When I'm on the bike, I have to move my foot backwards for a different position on the footpeg. With this movement I am in quite a lot of pain because all the rear muscles of the leg are not 100 per cent.
My knee suffered quite a lot. But I'm happy because after Monday at Brno, I feel better. I've improved.
Q. How competitive do you expect to be?

VR: Maybe I can be quite competitive for the race. We'll have to wait and see. We've also improved the bike, because we have an easier bike to ride and on the electronics side we've improved some settings, so I'm happy.
Q. Are you surprised to be back so soon?
VR: After the crash everything went well, from the surgery to all the period in the hospital. I had a lot of good people that helped me improve my condition, and they worked five or six hours every day for three weeks. So it's a big surprise to be here in this shape.
Q. Have you had to make any changes to the bike?
VR: The riding position, I feel very good with. We modified the rear brake position a little bit to make it more soft, because I don't have 100 per cent of my strength.
Q. Have you changed your leathers at all?
VR: We modified the leathers and the boots, from the knee to the end – we made different protection on my knee, bigger and more soft.
We modified the boots because the foot, especially on the inside, is bigger, and made the boots softer inside for less pain – and easier to pull in and pull out.
Q. Are you having to ride carefully this weekend, can you not afford to have any accidents?
VR: No, I cannot crash. I have to be quiet and not make mistakes.
Q. How close are you to full fitness?
VR: I have 90 per cent movement in the knee and 90 to 95 per cent in the ankle, so I'm very surprised it's easy to be quick and I'm able to walk.
Popularity: 5% [?]