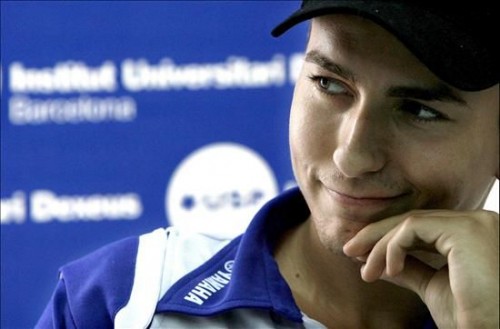 Jorge Lorenzo conducted a Q&A session with the assembled press before he started his weekend's work for the Spanish GP.
Catalunya marks Lorenzo's first return to the circuit since last year's dramatic battle with Valentino Rossi that culminated in a stunning final few laps that saw Lorenzo out-smarted by Rossi on the final corner.
The transcript of the Q&A session with Jorge Lorenzo is below:
Q. Four wins, two second places and a 47-point championship lead… how are you going to make this season exciting?
Jorge Lorenzo: You like bikes? You do? So for sure you will enjoy it, it doesn't matter how the races are. If you like the racing and the bikes, you will enjoy it.
For sure for people who only like overtaking and things like this, this year at the moment we don't have so many races like this, but maybe we will have.
Q. The nature of this circuit seems to produce fights. Are you expecting a close battle this weekend or to be able to escape?
JL: From my side, I would like to pull away. But if this is not possible, I will fight with the other riders. I think I prefer to fight.
Q. Is it more difficult to escape here at Catalunya because of the nature of the circuit?
JL: No, I think the most easy tracks for this at Sachsenring and Laguna Seca because they're short and have tight corners.
Q. Now you have a 47-point lead, can you be more relaxed about the races and take less risks?
JL: I accept that possibility of crashing, this could happen. When you are a rider and you compete in the world championship, you must accept that. But every year I know the bike more, I know more about the category and I crash less. So I always want to do the maximum. At this moment, I don't think so much about the championship, to be honest.
Q. Do you have any concerns about Yamaha's engine performance with the long straight here?
JL: Of course we know that Yamaha's engine is not so powerful. But we do have other skills. So at this track with that long straight, for sure to overtake at that point will be difficult, but we will have a lot of corners to try on.
Q. The way you're riding at the moment, it looks like it requires very little effort. Does it feel comfortable and easy? Or like you're having to push?
JL: I don't know if the sofa in my lounge is more comfortable, or the bike… I'll have to think about it.
But it's certainly not easy, what I'm doing. I am pushing. My riding style is smooth, it's something that I've always tried and now I'm perfecting it.
Q. Does it require more concentration if you're pulling away rather than battling? Like what happened at Assen at the chicane, does it require more concentration?
JL: Yes. It is difficult. When you are in a race and you have to close the gap because you are the second rider, you must not think about anything different from the race. When I entered the chicane, I thought to faster in the chicane I'd try to change my riding style. It was not a good thing to do. So I thought that I needed to finish the race, not to be faster.
Popularity: 1% [?]