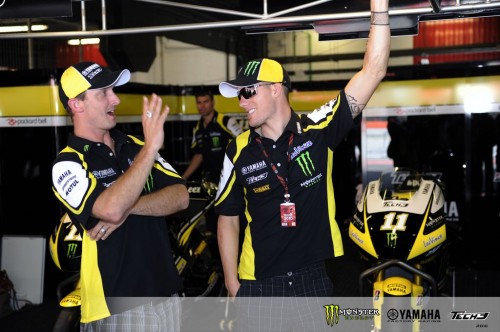 Monster Yamaha Tech 3 Team riders Ben Spies and Colin Edwards are gearing themselves up for potentially the hardest race of the 2010 MotoGP world championship campaign at the Catalunya circuit tomorrow.
Today's qualifying session at the 4.727km circuit near Barcelona took place in sweltering heat, with the American duo preparing to start from fifth and 11th on the grid for the 25-lap race.
Scorching hot conditions at the fast and technical circuit are likely to be repeated tomorrow, with Spies and Edwards putting in tremendous effort all weekend to get their YZR-M1 machines set-up to cope with the extreme weather.
Spies will start from fifth on the grid, the Texan disappointed he couldn't improve on his best time of 1.42.710 having encountered a slower rider while pushing hard on his last soft compound Bridgestone tyre.
The 25-year-old though remains confident of extending his outstanding form in his first full MotoGP season after completing an endurance run of 20-laps this afternoon.
The long run, five laps short of full race distance, gave Spies a wealth of information on Bridgestone's hard tyre in the extreme conditions often only experienced at the Sepang circuit in Malaysia.
Air temperature peaked at 35 degrees and track temperature a sizzling 53 degrees, but Spies was able to lap consistently in the low 1.43s bracket in full race trim.
He missed equalling his best premier class qualifying result of fourth by just 0.118s, but is confident he will be a strong contender for a third successive top four finish.
Edwards will start from the fourth row having set a best time of 1.43.059. Edwards called on all his vast experience to try and improve turning performance on his YZR-M1 machine while also fine-tuning suspension settings to gain maximum tyre endurance in the intense heat.
His hard work though was only rewarded with 11th, Edwards missing a top six grid position by less than 0.3s in another closely fought and exciting session.
Ben Spies 5th 1.42.710 – 30-laps
"We did close to a full race simulation at the beginning just to see how it was, check how the bike is going to be in the heat and when the grip drops off. The first ten laps won't decide the race here and that's why I wanted to do the distance run. I was only going to do ten laps but I ended up staying out and doing 20 and we got some good information. I was pretty happy with the performance of the bike and physically I felt great. I tried to put in a couple of quick laps at the end on the soft tyre and I rode really hard to get myself up the grid. I'm pretty upset because Espargaro blocked me. He saw me coming and didn't even move and I was lucky because that was already on my third lap on the last soft tyre I had available. I had to do my fastest lap on the fourth lap on the tyre and I didn't think I'd get as high as fifth and was worried I'd be a lot further down. So considering that, I'm pretty happy with how it ended. It will be a tough race but I'll be giving it my all to continue the momentum I gained with good results at Silverstone and Assen."
Colin Edwards 11th 1.43.059 – 26-laps
"Nobody wants to be down in 11th, least of all me, but I know I am riding better than ever and that is all I can do with the package we have got. It is really tough to go any faster than I am and it is not through a lack of trying on my part and my crew at Monster Yamaha Tech 3. Obviously it is unbelievably hot out there and we've spent a lot of time concentrating on getting the bike to work good at the end of the race when everybody is going to be chasing grip. If I race with the hard tyre I can probably be fighting for tenth and if I go with the soft tyre then at least I might be able to get in a good rhythm early on and see where we end up. But it is going to be tough and I'll sit down with my crew and Bridgestone tonight and see what they say about tyre choice for the race. I'll be giving it my all as usual but it is a little bit frustrating at the moment. I am so close to the top six on the times but I can't physically ride the bike any harder than I am to get those last couple of tenths I need to be higher up."
Popularity: 3% [?]