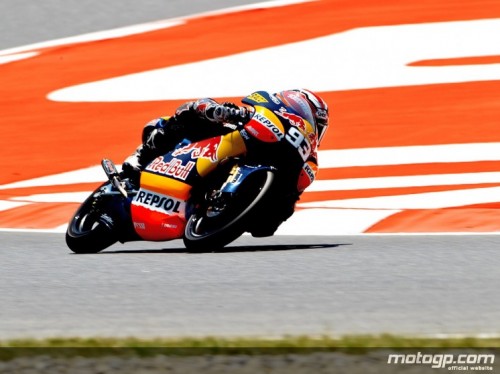 Marc Marquez took his 4th consecutive victory in the 125cc Spanish GP. This victory makes Marquez the youngest rider ever to win 4 consecutive races, and also places him at the top of the Championship Standings.
Aftre holding off a brief challenge by Bradley Smith, Marquez was able to gap the rest of the pack and remain unchallenged for the rest of the race – Pol Espargaro, Nicol Terol and Bradley Smith were left to fight for the remaining 2 podium places.
Smith held 4th position for the first half of the race and seemed to be struggling with top speed, but as his fuel load dropped he was able to mount challenges on Terol and Espargaro. The 3 riders battled and exchanged places until a tense last lap saw all three pushing to the limit until Terol highsided himself out of the race on the final lap. Smith was able to take second place and Espargaro took 3rd.
Cortese and Vasquez also provided abundant entertainment with their battle for 4th place with both riders swapping places lap after lap; but it was Cortese that claimed 4th with a strong pass on the final turn, reviving memories of Valentino Rossi's pass on Jorge Lorenzo in last year's MotoGP race.
125cc Race Results:
1Marc MARQUEZSPARed Bull Ajo MotorsportDerbi153.040'46.315
2Bradley SMITHGBRBancaja Aspar TeamAprilia152.7+4.638
3Pol ESPARGAROSPATuenti RacingDerbi152.7+4.996
4Sandro CORTESEGERAvant Mitsubishi AjoDerbi150.3+45.366
5Efren VAZQUEZSPATuenti RacingDerbi150.2+45.433
6Tomoyoshi KOYAMAJPNRacing Team GermanyAprilia150.0+49.685
7Randy KRUMMENACHERSWIStipa-Molenaar Racing GPAprilia150.0+49.735
8Johann ZARCOFRAWTR San Marino TeamAprilia150.0+49.743
9Jonas FOLGERGEROngetta TeamAprilia150.0+49.775
10Danny WEBBGBRAndalucia CajasolAprilia149.8+53.115
11Adrian MARTINSPAAeroport de Castello – AjoAprilia149.5+58.669
12Simone GROTZKYJITAFontana RacingAprilia149.4+58.800
13Alberto MONCAYOSPAAndalucia CajasolAprilia149.3+1'02.050
14Marcel SCHROTTERGERInterwetten Honda 125Honda148.5+1'15.497
15Zulfahmi KHAIRUDDINMALAirAsia – Sepang Int. CircuitAprilia148.4+1'16.029
16Jakub KORNFEILCZERacing Team GermanyAprilia147.8+1'26.441
17Louis ROSSIFRACBC CorseAprilia147.4+1'33.613
18Luca MARCONIITAOngetta TeamAprilia147.2+1'36.186
19Joan PERELLOSPASAG CastrolHonda147.2+1'36.223
20Michael VAN DER MARKNEDLambretta Reparto CorseLambretta147.2+1'36.340
21Johnny ROSELLSPASAG CastrolHonda146.8+1'43.804
22Marco RAVAIOLIITALambretta Reparto CorseLambretta146.1+1'55.331
23Peter SEBESTYENHUNRight Guard RacingAprilia141.31 Lap
Not Classified
Nicolas TEROLSPABancaja Aspar TeamAprilia152.81 Lap
Luis SALOMSPAStipa-Molenaar Racing GPAprilia147.08 Laps
Eduard LOPEZSPACatalunya Racing TeamAprilia143.211 Laps
Isaac VIÑALESSPACatalunya Racing TeamAprilia147.012 Laps
Sturla FAGERHAUGNORAirAsia – Sepang Int. CircuitAprilia147.915 Laps
Alexis MASBOUFRAOngetta TeamAprilia148.217 Laps
Not Starting
12Esteve RABATSPABlusens-STXAprilia0 Lap
53Jasper IWEMANEDCBC CorseAprilia0 Lap
32Lorenzo SAVADORIITAMatteoni CP RacingAprilia0 Lap
Popularity: 1% [?]