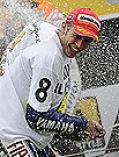 Yamaha have released an extended interview with Valentino Rossi shortly after he took his 8th World title in MotoGP.
"I think it's difficult to say, but maybe this is even better than the first championship with Yamaha in 2004. In 2004 I arrived after three championships in a row; the change was very big and no one expected me to win then, not even us to be honest! But this year is great too because I didn't start as the number one favourite after losing for two years. The taste of this is something special.
"In 2006 I lost because of bad luck; I still won the most races and was the fastest on track for most of the time, but in 2007 Stoner was a lot faster than us and so we got to the end with a big of disadvantage. Winning this championship was very difficult but also very, very important.
"The decision to change to Bridgestone tyres, which I took together with Jeremy, my team and all the Yamaha crew, was very important, as were the changes to the bike because the first 800cc M1 last year was not competitive enough. We spoke a lot during last season and I remember a strange meeting in Valencia last year, me with a broken hand, speaking with Furusawa about 2008. From then we started to work on the improvements for this season. It's also been important to have the right people in the right place and this year everything has been correct. It's been step-by-step.
"I think I have made a lot of good decisions this year and we have been competitive from the start. Qatar was the worst race of the season but I knew our potential was good so, although we were a bit worried at that point, we weren't desperate because we knew if we fixed a few problems we could try to win.
"I grew up a lot in the last two years, because at the end of 2005 I had a great career and I had won all the important targets so far. 125, 250 and then five titles in a row in MotoGP with two different bikes – I felt unbeatable. But in 2006 and 2007 I learnt to lose and this has been very important. I came out much stronger and my level of concentration and effort to win this championship has been higher than ever before.
"This season has had some different periods. At the beginning of the year we had some important results when Bridgestone wasn't the strongest: Jerez, Portugal and others, and in that period we took a big advantage from Stoner. After Barcelona Casey started to ride like a demon and dominated three races in a row, and then we went to Laguna which was the turning point of the season. Laguna was a real battle and from then on we have flown."
Popularity: 1% [?]