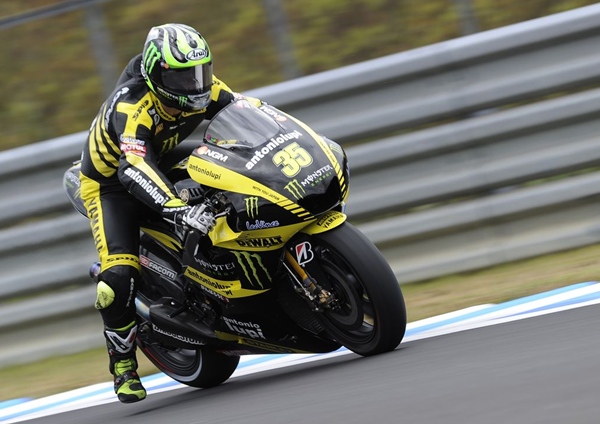 Colin Edwards and Cal Crutchlow both collected valuable World Championship points after an incident-packed Japanese Grand Prix at the Twin Ring Motegi circuit this afternoon.
Edwards made a welcome return to the top 10 with a hard fought eighth position, the experienced American being one of the few riders not to be involved in some sort of incident during a dramatic 24-lap race.
Crutchlow certainly had an eventful afternoon and the British rider salvaged a deserved 11th place having twice run off the 2.983 miles circuit while trying to fight his way into the top 10. He also had to ride through the pitlane for jumping the start, but determined to deliver the best result possible in Yamaha's home race, he mounted a brilliant recovery to finish inside the points for the fourth successive race.
Starting from 14th, Edwards kept his composure as the chaotic action unfolded in front of him to move into seventh position on lap 18 having brilliantly pulled away from Twin Ring Motegi specialist Hiroshi Aoyama.
Edwards dropped back to eighth with factory Yamaha rider Ben Spies mounting an exciting surge back through the pack after he was caught up in a first lap incident with Jorge Lorenzo and Valentino Rossi.
At the chequered flag the 37-year-old was once again the top non-factory rider to move to 98-points with three races remaining.
Crutchlow was running in ninth place when he ran off track at Turn 3 on lap four after contact with Toni Elias. He dropped back to 15th and then lost a further 17 seconds when he was penalised with a ride through pitlane for a jump start. He returned to the track in last position but never gave up and he salvaged five important World Championship points to strengthen his bid to be crowned 2011 Rookie of the Year.
Colin Edwards 8th – 98 points:
"What a race that was and I'm struggling to remember everything that happened because it seemed like each time I went round a corner somebody else was in the gravel! There was so much chaos it was just about surviving. Right away I knew Cal had jumped the start and then Valentino and Ben were in the gravel. Casey was then off track, so I just got my head down and once the hard rear tyre got heated up and working good, I put in some decent times around the halfway stage. It took me too long to get by Aoyama though and it is tough to sit behind somebody for such a long time without being able to pass. His style is basically to stop in the middle of the corner and fire it out using the power of the Honda, so he'd get a jump of a few metres with the advantage he had in acceleration. Honestly speaking, my pace wasn't there all weekend, so to get eighth is a positive result and we can move on and try be much faster at Phillip Island, which is a great track."
Cal Crutchlow 11th – 57 points:
"Where do you start after a race like that? I knew I'd jumped the start because directly in front of me was Simoncelli and I just let the clutch out when I saw him move. After that I just wanted to push to pick up as many places as I could before I needed to come in for the pitlane ride through. I was pushing to pass Elias but he braked really sharply at Turn 3 and I nearly ran into the back of him. That put me in the gravel, so if you take off the time I lost in that incident and the time I lost with the penalty, I'm sure I could have been in the top seven. After all the drama I just wanted to finish and get as many points as I could for Yamaha and for Tech 3 in such an important race. This is the fourth race in succession now that I've finished and I'm gaining a lot of experience. I haven't felt my best physically this weekend and I didn't know the track either, so to bag a few more points is a positive outcome and now I'm really excited about the last three races. I know Phillip Island, Sepang and Valencia, so hopefully I can have a really strong finish to the season."
Herve Poncharal – Team Manager:
"That was an eventful race to say the least and I am really glad at the end that Colin and Cal were able to score good points. Colin had a relatively trouble-free race compared to some of the others and it was good for him to be back inside the top 10 after a couple of difficult races. He took full advantage of the luck that came his way and once again the only riders in front of him are on factory machinery, so he can be pleased with his effort in Yamaha's home race. Cal probably hasn't had too many races like he experienced today but he deserves a lot of credit for never giving up and finishing. I think he just let the clutch out because he saw Dovizioso and Simoncelli move but he didn't let that distract him. It was unfortunate that he ran off track in the early laps because as the race developed, he could have easily finished inside the top 10, despite the ride through. Both Colin and Cal showed a lot of fighting spirit today and I am sure the Yamaha fans appreciated their effort and hard work. Now we can look forward to Phillip Island hoping to see both of them inside the top 10."
Popularity: 1% [?]