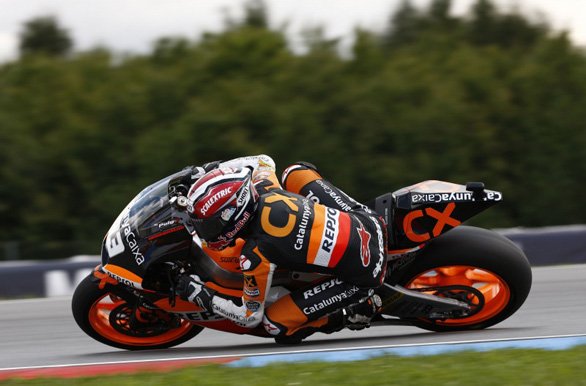 Marc Marquez took victory in the Indianapolis Moto2 race, making it his 5th win of the season.
It was Bradley Smith that took an early lead at the start of the race, but a tight pack of riders that included Iannone, Marquez, Rabat, Espargaro, and Redding all ensured that the first half of the race was a frantic affair that saw everyone change positions multiple times.
Ride of the day went to Stefan Bradl who had a mature race that saw him steadily work his way up from his starting position outside of the top 20, to finish in 6th place and rescue crucial points for his championship campaign.
Moto2 Race Results from Indianapolis:
1Marc MARQUEZTeam CatalunyaCaixa Repsol45'50.601
2Pol ESPARGAROHP Tuenti Speed Up1.889
3Esteve RABATBlusens-STX2.31
4Bradley SMITHTech 3 Racing3.389
5Scott REDDINGMarc VDS Racing Team5.674
6Stefan BRADLViessmann Kiefer Racing9.134
7Julian SIMONMapfre Aspar Team Moto29.347
8Mattia PASINIIoda Racing Project15.01
9Mika KALLIOMarc VDS Racing Team15.031
10Aleix ESPARGAROPons HP 4015.339
11Andrea IANNONESpeed Master17.447
12Dominique AEGERTERTechnomag-CIP21.727
13Xavier SIMEONTech 3 B24.279
14Simone CORSIIoda Racing Project25.714
15Alex DE ANGELISJIR Moto226.894
16Jules CLUZELNGM Forward Racing27.375
17Thomas LUTHIInterwetten Paddock Moto227.546
18Jordi TORRESMapfre Aspar Team Moto227.764
19Ricard CARDUSQMMF Racing Team27.946
20Michele PIRROGresini Racing Moto229.362
21Randy KRUMMENACHERGP Team Switzerland Kiefer Racing31.701
22Claudio CORTIItaltrans Racing Team32.03
23Raffaele DE ROSANGM Forward Racing32.1
24Max NEUKIRCHNERMZ Racing Team35.387
25Yuki TAKAHASHIGresini Racing Moto237.801
26Anthony WESTMZ Racing Team42.146
27Mike DI MEGLIOTech 3 Racing53.491
28Martin CARDENASBlusens-STX58.947
29JD BEACHAeroport de Castello+1'04.334
30Valentin DEBISESpeed Up+1'12.230
31Jacob GAGNEGPTech+1'12.503
32Robertino PIETRIItaltrans Racing Team+1'15.177
33Santiago HERNANDEZSAG Team+1'15.899
34Alex BALDOLINIPons HP 40+1'37.102
35Mashel AL NAIMIQMMF Racing Team1 Lap
Not Classified
Ratthapark WILAIROTThai Honda Singha SAG5 Laps
Carmelo MORALESDesguaces La Torre G2211 Laps
Kenny NOYESAvintia-STX19 Laps
Popularity: 1% [?]