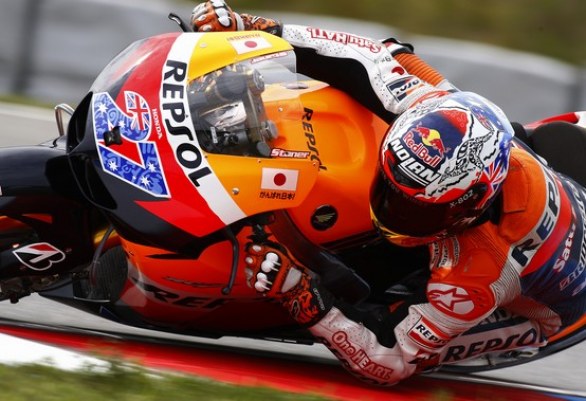 Casey Stoner took a comfortable victory in the Indianapolis MotoGP, despite an early challenge from Dani Pedrosa who took the lead after one of his trademark strong starts.
Ben Spies settled for third position after he got tangled up at the start, and almost ran off track. Spies lost a handful of places in the incident, and then had spend the majority of the race fighting his way back up to the front of the field – which he did in style. He eventually caught up with his team-mate Lorenzo, and dispelled any rumours of team orders to overtake him and claim third place.
Marco Simoncelli started strong (and looked like a podium contender in the first half of the race) but tyre issues caused him to steadily slide backwards down the field as the race progressed and he had to settle for a 12th place finish.
The factory Ducati team also had a poor race when the early promise of Nicky Hayden was cut short by his choice of soft front tyre that caused him to pull into the pits before going back out again, and Valentino Rossi also looked for a pit-stop mid-race before finally finishing in 10th.
Hector Barbera added to Ducati's forgettable weekend by crashing on the final turn of the final lap.
MotoGP Race Results from Indianapolis:
1Casey STONERRepsol Honda Team46'52.786
2Dani PEDROSARepsol Honda Team4.828
3Ben SPIESYamaha Factory Racing10.603
4Jorge LORENZOYamaha Factory Racing16.576
5Andrea DOVIZIOSORepsol Honda Team17.202
6Alvaro BAUTISTARizla Suzuki MotoGP30.447
7Colin EDWARDSMonster Yamaha Tech 339.69
8Randy DE PUNIETPramac Racing Team53.416
9Hiroshi AOYAMASan Carlo Honda Gresini53.79
10Valentino ROSSIDucati Team55.345
11Cal CRUTCHLOWMonster Yamaha Tech 357.184
12Marco SIMONCELLISan Carlo Honda Gresini+1'00.141
13Toni ELIASLCR Honda MotoGP+1'02.169
14Nicky HAYDENDucati Team2 Laps
Not Classified
8Hector BARBERAMapfre Aspar Team MotoGP1 Lap
17Karel ABRAHAMCardion AB Motoracing8 Laps
65Loris CAPIROSSIPramac Racing Team12 Laps
Popularity: 1% [?]