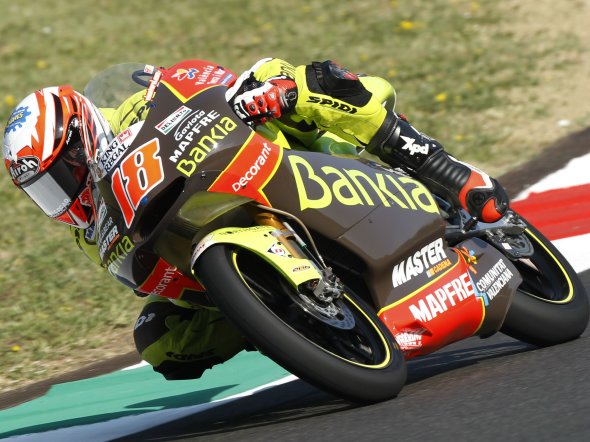 Nicolas Terol powered to an commanding victory in the 125cc race at Indianapolis.
Starting from pole, Terol got a solid start and managed to stretch his lead to a few bike lengths within the first few corners.
Terol set continuous fast laps, and by the halfway point he was so far out in front that his 11 second lead made it look like he was on an American Roadtrip with no other traffic visible on the road behind him.
The action was left to Zarco, Vinales, Gadea, and Cortese, who all battled hard for second place.
Johann Zarco and Maverick Vinales fought hard for supremacy on the track, and just as the battle was really heating up Zarco almost came off track at the last corner coming on to the long Indy straight. Maverick Vinales made the most of the incident and pulled ahead into a comfortable second place, however his gap didn't last long as Sandro Cortese closed him down and passed him with 4 laps to go. Both riders exchanged positions in the last few laps, but it was Vinales that claimed second and Cortese had to make do with third.
Meanwhile, Zarco put on a solid comeback to take 5th place by beating his team-mate by a fraction of a second as they both appeared to cross the finish line side by side.
125cc Race Results from Indianapolis:
1Nicolas TEROLBankia Aspar Team 125cc42'11.978
2Maverick VIÑALESBlusens by Paris Hilton Racing3.633
3Sandro CORTESEIntact-Racing Team Germany3.737
4Sergio GADEABlusens by Paris Hilton Racing4.227
5Johann ZARCOAvant-AirAsia-Ajo14.186
6Efren VAZQUEZAvant-AirAsia-Ajo14.2
7Hector FAUBELBankia Aspar Team 125cc18.477
8Miguel OLIVEIRAAndalucia Banca Civica23.992
9Jonas FOLGERRed Bull Ajo MotorSport24.239
10Jakub KORNFEILOngetta-Centro Seta38.748
11Simone GROTZKYJPhonica Racing39.194
12Louis ROSSIMatteoni Racing40.203
13Danny KENTRed Bull Ajo MotorSport44.088
14Alexis MASBOUCaretta Technology45.201
15Luigi MORCIANOTeam Italia FMI46.037
16Jasper IWEMAOngetta-Abbink Metaal58.451
17Brad BINDERRW Racing GP+1'12.015
18Francesco MAURIELLOWTR-Ten10 Racing+1'12.898
19Zulfahmi KHAIRUDDINAirasia-Sic-Ajo+1'14.294
20Joan PERELLOMatteoni Racing+1'23.947
21Taylor MACKENZIEPhonica Racing+1'29.369
22Peter SEBESTYENCaretta Technology+1'29.813
23Alessandro TONUCCITeam Italia FMI+1'34.296
24Giulian PEDONEPhonica Racing2 Laps
Not Classified
Marcel SCHROTTERMahindra Racing1 Lap
Adrian MARTINBankia Aspar Team 125cc3 Laps
Sturla FAGERHAUGWTR-Ten10 Racing12 Laps
Niklas AJOTT Motion Events Racing16 Laps
Harry STAFFORDOngetta-Centro Seta16 Laps
Popularity: 1% [?]