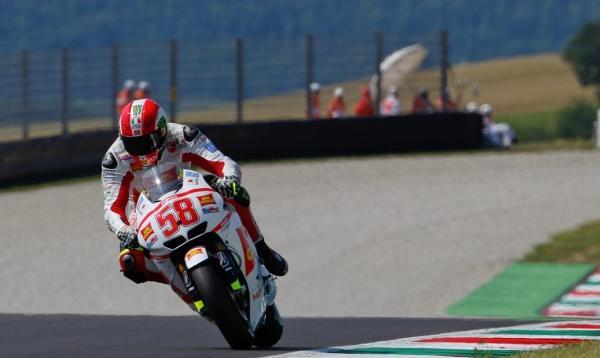 Marco Simoncelli took 3rd position in qualifying today for the Italian MotoGP at Mugello. This is Simoncelli's sixth straight consecutive front row start.
Simoncelli faces a balancing act in this race – he needs to translate his raw speed into solid results, and finishing off the podium will be unacceptable. However, he faces the added challenge of finding a balance between the criticism he has been receiving from other riders about his riding style and calls for him to calm down, and the enthusiasm of thousands of frantic Italian race fans who will be urging him on for an all out win.
Simioncelli's electrifying start to the season has meant his profile is bigger than ever, and with Valentino Rossi languishing outside the top 10 with little hope of victory, the expectations of the Italian fans has fallen on to Simoncelli's shoulders. Should be interesting, whatever happens.
Marco Simoncelli (3rd 1' 48" 485)
"I am on the front row and I am happy with that. Maybe I could have made a challenge for pole position but it had started to rain and I preferred to back off. I was actually improving my lap time about halfway through the session when I saw a few drops on my visor and with a lap time already in the bank I decided not to risk it. It was a tough session because you had to trust the grip even though there was water on your visor. Everything is pretty much sorted with the bike, my pace is good and tomorrow I will try to do the best I can. I hope we have a dry race and not conditions like today. I want to stay calm because everything is in place for us to do well so I just need to pay attention at critical points. They say it's hard to sleep here at Mugello but I like the atmosphere and to be honest it actually helps me sleep, even though I would really like to be out there with the fans."
Hiroshi Aoyama (13th 1' 50" 156 )
"It was a tricky session because of the conditions and unfortunately I wasn't able to find the right feeling with the bike, so hopefully we can do that in the morning and gain the confidence to push in the dry conditions. My physical condition is also a bit of a problem because I am still not fully recovered from the crash at Assen."
Fausto Gresini
"A sixth consecutive front row is a very positive result. Today wasn't easy but Marco showed that he is in splendid form. Tomorrow won't be an easy race because I think there could be five riders with a chance of winning but Marco has a good pace so he'll be amongst them. 'Sic' is happy with his bike and the changes made to it despite a lack of dry track time and we will try to improve it further in the warm-up. Hiro is still hurting from the crash at Assen and doesn't quite have the right feel for the bike. We will try and give him some confidence ahead of the race."
Popularity: 1% [?]