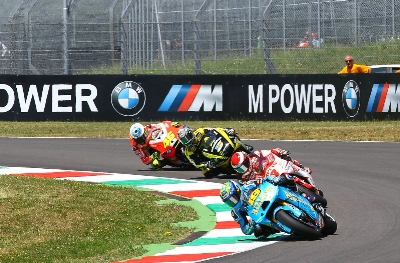 The Rizla Suzuki team usually use words like 'frustrating' and 'disappointing' when describing race weekends, but today's could have been so much different when Bautista made a lightning start to the Mugello MotoGP race.
Bautista started from 14th on the grid, but by the end of lap one he was in 9th position and his Suzuki looked to be performing well in the Italian heat.
Bautista continued to make solid progress and forght hard for a while in a pack of riders that included Rossi, Barbera, and Edwards.
On lap 16 however, things came undone as Bautista suffered a front-end slide and as he struggled to save his Suzuki GSV-R he accidently knocked the gear-lever into neutral and ran off the circuit. He re-joined the race and continued to post consistent laps before finally bringing his Rizla Suzuki home in 13th place.
Another 'disappointing' weekend then…..
Álvaro Bautista:
"It was always going to be a difficult race today because we were starting from the back of the grid and that is never easy. I made a good start and had a couple of strong laps to get up to sixth position. I tried to push to get to the group at the front because they were still close, but I was already starting to have a bit of trouble with the grip from the front of the bike. I nearly crashed two of three times on several corners and my elbow touched down and saved me once! I tried hard to keep my position in the group and my overall feeling was good, even though I couldn't enter the corners exactly as I wanted to. To finish the race in sixth or seventh today was certainly possible, but as I entered turn 12 I lost the front completely. I went into neutral and went off the track and lost a lot of positions. I am happy with the first part of the race, but disappointed for the last part, because as I said before sixth or seventh was there for us today. We have to remain positive though and to keep heading in the right direction and improve over the next races."
Paul Denning – Team Manager:
"It has been a disappointing result for everybody, but taking into context where we qualified, today's race was very encouraging and came closer to showing the true potential of rider and machine. The first five were in a different race today, but to come from 14th on the grid to sixth in the first few laps and to do a 49.4 on the 14th lap – when we qualified at 50.4 on fresh tyres – gives an indication of how much Álvaro stepped his game up this afternoon. I think without doubt Álvaro would have stayed in the fight for sixth place with Valentino right till the end, but we'll never know now! There is now a strong incentive to get closer to the sharp end in the practices – both in Sachsenring and Laguna – and show more of the fight like we did in Mugello this afternoon."
Popularity: 1% [?]