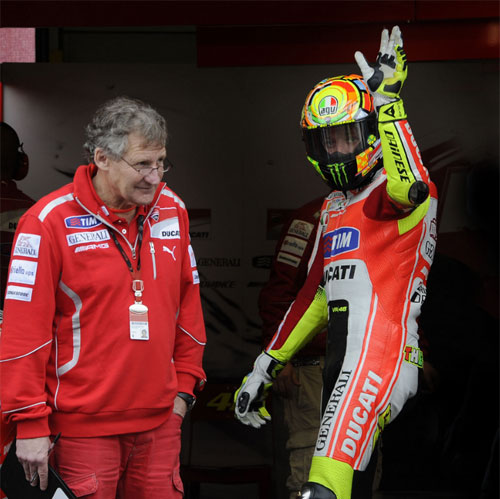 The early promise of Valentino Rossi's new Ducati GP11.1 in yesterday's wet conditions failed to materialise in the dry Qualifying session today. Rossi spent much of the qualifying period stuck down in 15th position, until a couple of very late surges saw him claw his way up to 11th.
Rossi blamed the poor performance on a lack of a suitable setting to allow him to get his tyres up to temperature.
Nicky Hayden did slightly better by finishing in 9th place.
All the Ducati riders were once again put in Karel Abraham's shadow, who finished as the highest qualifying Ducati in 7th place.
Nicky Hayden (Ducati MotoGP Team) 9th, 1:35.866
"This morning we were trying to learn the step 2 chassis, but with the rain, we never got to compare back-to-back with the step 1 in similar conditions so, for this afternoon, we went with what we knew. We struggled a bit at the beginning of qualifying, and then when we put in the soft tyres, we also changed to a different shock setting that helped put some temperature in the tyre. I started getting a better feel and going faster, and like always, it would have been nice to get a few more laps. It's not why we're on the third row, but when Capirossi crashed, they should have red-flagged the session, because he was in the run-off area of a fast place. We've had just about every condition this weekend, so we'll see what we get tomorrow. It could be a wild race."
Valentino Rossi (Ducati MotoGP Team) 11th, 1:36.564
"We're disappointed with qualifying because we had started quite well yesterday, so clearly, we expected things to go better today. We had a decent session this morning, but we weren't able to improve, so we'll start eleventh. The rear of the GP11.1 is better than the previous version, but we weren't able to find a setup that allowed us to bring the tyres up to temperature, and at the moment, that's making it difficult to find the feeling I need to ride hard and be strong on corner entry. I don't think we've yet learned how to properly adjust the bike, and that's something we knew could happen since we have so little time available. Still, this all helps us to gather experience for the future, and we have some ideas for tomorrow's warm-up session that we hope will help us go faster in the race."
Popularity: 1% [?]