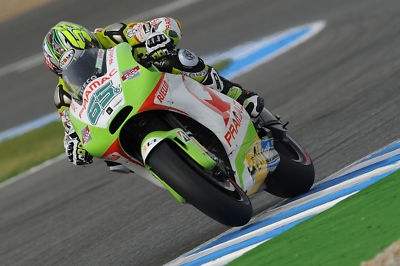 Loris Capirossi has been ruled out of the Dutch MotoGP after being diagnosed with a dislocated shoulder and injured ribs following is high speed crash in qualifying.
Loris Capirossi:
"There's not much to say. It's not much fun to be crushed by a bike at high speed. I'm feeling better now, although I'm sorry to miss tomorrow's race. I crashed as I was at my best; I could have dropped my time, but the problem in left-hand corners, which we had already experienced in the morning's free-practice session, caused me to lose control. Tomorrow I'll go back to Monte Carlo, and in two days I'll undergo some more checks on my physical condition."
This will only serve to compound Capirossi's current misery at Pramac Ducati. Loris was interviewed on Dutch TV and stated that he wasn't happy, and that Ducati's current efforts are 100% focused on solving Valentino Rossi's problems, and not on the other Ducati teams.
Watch the interview below:

Popularity: 1% [?]