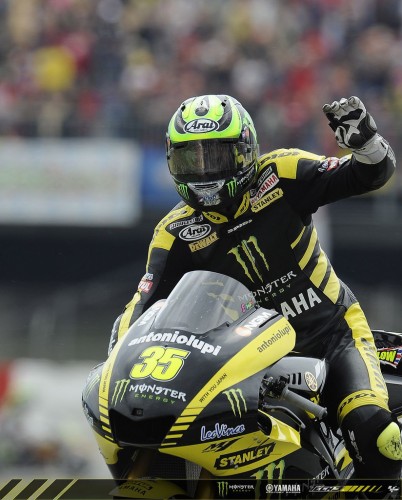 Another new track for Cal Crutclow and another impressive performance. Crutchlow was the sole Tech-3 Yamaha rider out on track at the Catalunya MotoGP due to Colin Edwards being ruled out with a broken collarbone – although rumours were circulating that he may start the race. Edwards failed the medical and was eventually deemed unfit to race, but intends to return for Silverstone next weekend.
Starting from the second row of the grid, the Crutchlow quickly gained momentum on after choosing a hard rear tyre and a series of consistently fast laps saw him easily reel in the factory Ducati of 2006 MotoGP World Champion Nicky Hayden. He eventually passed the American on lap ten and was able to comfortably pull away, despite some nervous moments from the halfway stage as spots of rain started to fall on the Montmelo circuit.
After the race Crutchlow expressed frustration with his tyre choice, and stated that he lost time in the first few laps trying to get heat into his tyre.
Cal Crutchlow 7th – 30 points:
"That's my best result in MotoGP and of course I'm happy, but I'd rather have got a result like that in a more entertaining race. It was just a test of concentration for most of the race once I'd passed Nicky and it was quite lonely. I caught him really quickly but once I got by I'd used up my rear tyre trying to chase him down because I struggled for grip after that. When the spots of rain came it was quite difficult. The white flags were being waved like there was a monsoon but there was only rain in the last three corners. Part of me was looking forward to having a flag-to-flag race because it might have given me a chance of fighting with the group at the front, but the rain never got worse than a few spots on the visor. I still managed to pull away from Nicky but I finished 26 seconds behind Casey, and that is not too bad considering I'd never seen this place before. If I hadn't backed off a little I'm sure I could have finished about 20 seconds back and that was good enough for the top six last year. Sixth to eighth position is where I'm at the moment but it is a good confidence boost as well to finish as the top non-factory rider. Nobody can ride this package harder than I am at the moment and now I'm looking forward to Silverstone. I'm sure the support is going to be incredible and I'm really looking forward to it."
Colin Edwards DNS:
"I'm a little bit disappointed with the decision not to let me ride because while it's not a lifelong ambition never to miss a MotoGP race, it was a run I was pretty proud of. I understand the decision but my shoulder feels great. Dr Xavier Mir has done an amazing job on my collarbone because it was smashed, but it was never my intention to do the full race. I just wanted to start, do a couple of laps and pull in. I only considered it because I was here in Barcelona and it seemed pointless breaking the streak. But I'm too big and too old to get upset and I'm going to rest up now and concentrate on getting ready for Silverstone. I know I can race next weekend and I'm already looking forward to it. I can't remember the last time I missed a race and I definitely don't like watching on TV, so I'm desperate to get back working with my Monster Yamaha Tech 3 crew."
Hervé Poncharal – Team Manager:
"Seventh is a good result for Cal and the best we can hope for. The six in front of him are on all factory machinery and I think even with a better start, it would have been a big ask for him to fight with Simoncelli. But to chase down Nicky on a factory bike, pass him and then pull away quite comfortably, is still a big scalp for Cal. It is easy to forget he is a rookie but seventh is his best result so far and it couldn't have come at a better time with his home race at Silverstone coming next weekend. We are also looking forward to having Colin back in action at Silverstone. I can understand his desire to ride today and at 37 with all he's achieved in his career, his determination and commitment is amazing. But we have to remember he was only operated on yesterday and he respects the decision of the medical staff. He will be stronger at Silverstone and it will be great to see Colin and Cal back on track together doing their best for the Monster Yamaha Tech 3 Team."
Popularity: 1% [?]