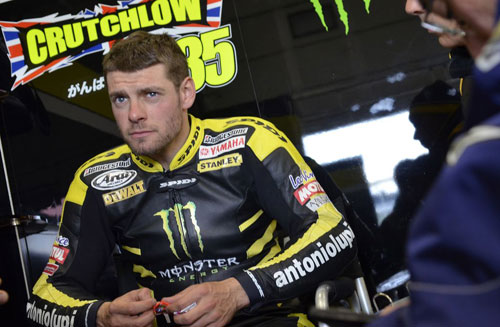 Cal Cutchlow made an impressive return to GP racing by taking 6th position for the Assen MotoGP.
A couple of days ago, Cal Crutchlow's participation in the Assen MotoGP was still in doubt after breaking his collarbone at the last round at Silverstone. Today, Crutchlow finds himself only just missing out on a front-row start for the Assen MotoGP.
Both Tech 3 riders are currently riding with broken collarbone injuries and Colin Edwards also did 'team collarbone' justice by finishing in 8th position.
Crutchlow and Edwards both reflect of Assen MotoGP qualifying beow:
Cal Crutchlow:
"I was on the front row right at the end and it just got taken away, but I'm still really happy because I came here and didn't think I'd even be riding at this stage of the weekend. I thought I'd only be able to do a few laps because of my collarbone injury and here I am fighting for the front row. I think I went for it on my last soft tyre a little bit too early to be honest, but I can't be disappointed. Sixth seems to be my position on the grid at the moment because that's the third race in a row I've started from that place. My shoulder is really sore now too. The 90 minute session this morning followed by another hour this afternoon means I can really feel the collarbone throbbing. The fast changes of direction are the biggest issue. Flicking the bike through some of those fast kinks is hard enough when you've got full strength, so for me having a big operation to plate my collarbone only last week, it is really difficult. To be honest, I hope it rains for the race tomorrow, but I'll try my best for the Monster Yamaha Tech 3 Team whatever the weather."
Colin Edwards:
"Riding in the dry made it pretty tough on my body today. With the extra 45 minutes this morning, it has been physically demanding. The collarbone I broke in Catalunya is fantastic but the damaged muscles around my ribs have hurt a lot today and made it hard to change direction. We changed a couple of things to the bike to make it more comfortable for me. The bike is more stable and easier to change direction, and while it might not be an advantage for the lap time, it has certainly helped my ability to push more to my normal level. My lap times aren't terrible but in certain parts of the track it is hard to push. I just don't have the strength. Some of those changes of direction, you're flat out in fifth gear and I just don't have the power to throw the bike around. Taking a deep breath was hard because of the ribs, but we got today out of the way and I might wake up tomorrow morning and miraculously feel better. I doubt that will be the case, but the race is a different thing. When the lights go out and the adrenaline kicks in, I probably won't feel a thing and I'll be giving it my maximum in the wet or the dry."
Popularity: 1% [?]