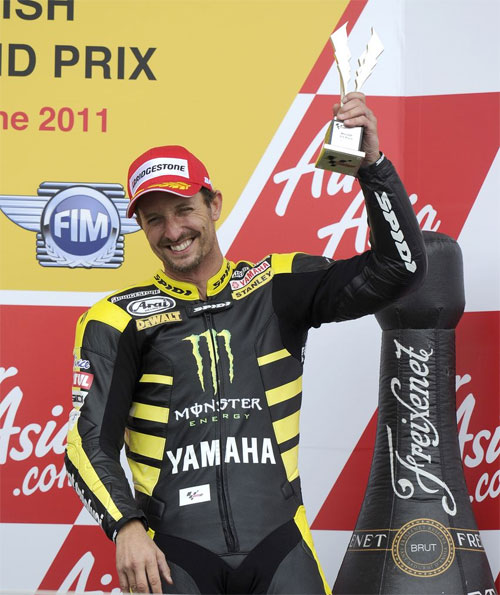 Colin Edwards showed what you can do with a bit of determination, a bit of luck, some high-street painkillers, and a large dash of experience, by keeping his bike on two wheels (whilst many others didn't) and finishing in 3rd place at the British MotoGP.
Edwards broke his collarbone only a week ago, and put on an experienced performance in wet and slippy conditions to secure his first podium of the season.
The Tech 3 team had a bit of a bi-polar weekend at the British MotoGP this weekend – all their bad luck arrived on Saturday with Cal Crutchlow breaking his collarbone, and Bradley Smith suffering technical issues that prevented him from making the most of the Moto2 Qualifying session.
However, Edwards and Smith both pulled out impressive performances on race-day to get a podium each.
Colin Edwards 3rd – 37 points:
"That was an unbelievable race and to finish on the podium feels amazing. I was happy to qualify eighth but never in a million years did I think I'd be on the podium just over a week after breaking my collarbone. I need to thank Dr Xavier Mir for the repair job he did on my shoulder and also my guys at Monster Yamaha Tech 3 because they gave me a phenomenal bike today. My shoulder felt great and it was the muscle damage around my ribs that caused me the most pain. But the rain definitely helped because it was a lot less physical than in the dry. I just gritted my teeth and got on with it, just trying to stay smooth and not make any mistakes. Conditions were pretty bad and it was a case of working out when and where you could push. I'd have been happy to finish the race and then go home to think about Assen. But I saw a few people succumbing to the conditions and I saw P3 on by board and I couldn't believe it. At that time though there were still eight or nine laps to go and I couldn't feel my hands or my feet because it was so wet and cold. It was difficult but it was a good way to the end the weekend for the Team after what happened to Cal. Nobody wants to get hurt, but being injured for your home race is really tough to take, so I wish him a quick recovery and hope to see him back in Assen."
Herve Poncharal – Team Manager:
"Colin was absolutely amazing. Nobody would have bet any money on him to be on the podium just one week after having an operation on his broken collarbone. But Colin has been a hero and this is a memorable day for the Monster Yamaha Tech 3 Team. It was a bad day yesterday when we saw Cal crashing and he was forced to miss his home race. But Colin helped put the smile back on the faces of everyone inside the Monster Yamaha Tech 3 Team with a brilliant ride. And not only was he fast but he was very brave too. He was robbed of a podium finish in Jerez in similar conditions a few weeks ago and I have to give him a lot of respect because it would have been easy just to go home to rest after his injury in Catalunya. He rode for the Team more than anything and it shows how much he is still enjoying racing and how motivated he is. He has been in a lot of pain but he's never complained and he treated the weekend like a normal weekend and his ride was the best of the day in MotoGP. He didn't make a mistake like some of the others so we are overjoyed. We can't be completely happy because of what happened to Cal and it was a big pity he couldn't race, but he is a fighter and we'll see him back stronger than ever soon. I know how much he wanted to ride in front of his home crowd, but he has seen what Colin has achieved so quickly after his collarbone injury, so hopefully this will be a good inspiration for him."
Popularity: 1% [?]