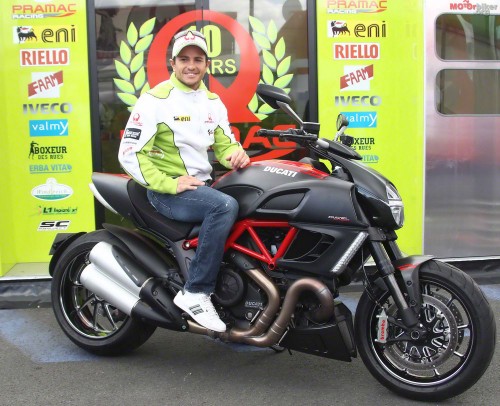 As if he hasn't cost Ducati enough money this year already!
Despite crashing another Pramac Ducati bike at the Le Mans MotoGP in France last week, the Ducati factory still obviously thought that Randy De Puniet had done enough to deserve a free Ducati Diavel.
He can't quite believe it himself – look at his grin.
This is further proof (as if needed) that your job is rubbish, and being a MotoGP rider is quite clearly the best job in the world. If I went in to work each week and trashed the equipment, threw the expensive computers out of the window, and then crashed the bosses car in the parking lot, then I'm pretty sure I wouldn't be rewarded with a huge bonus.
Well done Randy.
Popularity: 2% [?]