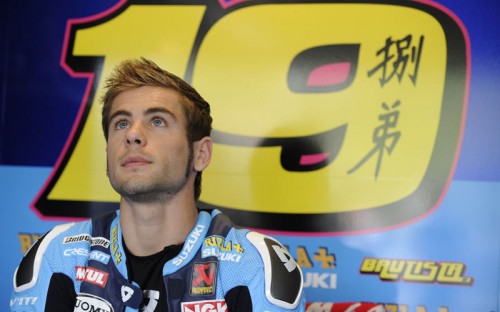 Alvaro Bautista hit the track for a short time in the Estoril test session yesterday before letting test rider Nobuatsu Aoki take over in the afternoon. Bautista managed to complete 17 laps during the morning and set a best lap-time of 1'38.850 on his final lap – over a full second faster than his best lap in Sunday's race and over three-tenths-of-a-second faster than his qualifying time, which was set on brand new tyres on Saturday.
The improvement was largely attributed to a new chassis that the Rizla Suzuki team were testing on their GSV-R. The positive test result means that Suzuki have already made the decision to run with the new chassis at the French MotoGP at Le Mans in 2 weeks time.
Álvaro Bautista:
"My leg was really sore today – as I expected – but it was good enough to do four laps at a time and I really wanted to understand this new chassis, so I have to forget the pain and do some work, this is the life of a racer! Anyway, I am happy I tried it because – at least at this track – the step was quite big. The turning of the bike is improved a lot, this means I can open the gas much quicker and improve my corner speed and acceleration. The lap-time came a lot more easily with this chassis and when I followed Lorenzo, who was making low 1.38 at this point, we were really similar on the whole lap until we arrived in the slow chicane at the end of the circuit, then he disappeared because it's just too painful to throw the bike through this direction change like I need to. But – apart from the actual position in the race – I achieved everything I wanted to here in Estoril so I am happy, and I will be stronger in Le Mans.
"Thanks again to everyone at Rizla Suzuki for supporting me so well, and thanks to Suzuki in Japan for working so hard to improve the bike. It's been a difficult few weeks but I am looking forward very positively – there are many races left to show what we can do!"
Popularity: 1% [?]