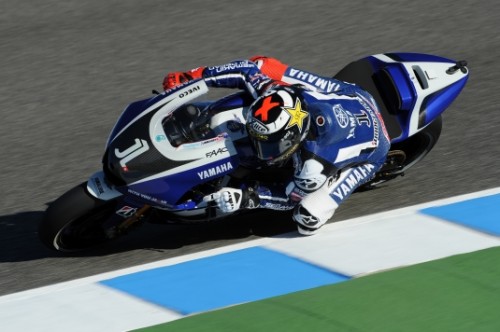 Well, that was probably one of the strangest MotoGP races you'll ever see.
Jorge Lorenzo eventually took victory in a race that saw Valentino Rossi and Casey Stoner re-ignite their feud. Valentino Rossi charged from 12th position to 4th in only a handful of laps, but then crashed out, taking Stoner with him as he went for 3rd position.
After the race when Rossi went to apologise to Stoner, Casey was heard to say "your ambition outweighs your talent", as well as making some sarcastic jibes about the health of Rossi's shoulder.
Back on the track the action wasn't over and spectators were treated to an unpredictable set of events that included:
Simoncelli taking the lead, only to highside himself out of the race.
Lorenzo keeping his cool and managing to fight off a charge from Pedrosa, eventually stretching out a gap that Pedrosa had no chance of bridging.
Cal Crutchlow contend for 5th place, only to crash, and rejoin the race and eventually take 8th position
Colin Edwards looking like a certaintly for 3rd place, only to be forced to retire with a failed engine
Rossi still managing to finish in 5th place due to the likes of Ben Spies, Colin Edwards and others crashing out or running off track
Full results below:
MotoGP Jerez Race Results:
1Jorge LORENZOYamaha Factory Racing50'49.046
2Dani PEDROSARepsol Honda Team19.339
3Nicky HAYDENDucati Team29.085
4Hiroshi AOYAMASan Carlo Honda Gresini29.551
5Valentino ROSSIDucati Team+1'02.227
6Hector BARBERAMapfre Aspar Team MotoGP+1'08.440
7Karel ABRAHAMCardion AB Motoracing+1'14.120
8Cal CRUTCHLOWMonster Yamaha Tech 3+1'19.110
9Toni ELIASLCR Honda MotoGP+1'42.906
10John HOPKINSRizla Suzuki MotoGP+1'48.395
11Loris CAPIROSSIPramac Racing Team+1'51.876
12Andrea DOVIZIOSORepsol Honda Team1 Lap
Not Classified
Colin EDWARDSMonster Yamaha Tech 31 Lap
Ben SPIESYamaha Factory Racing3 Laps
Randy DE PUNIETPramac Racing Team11 Laps
Marco SIMONCELLISan Carlo Honda Gresini16 Laps
Casey STONERRepsol Honda Team20 Laps
Popularity: 1% [?]