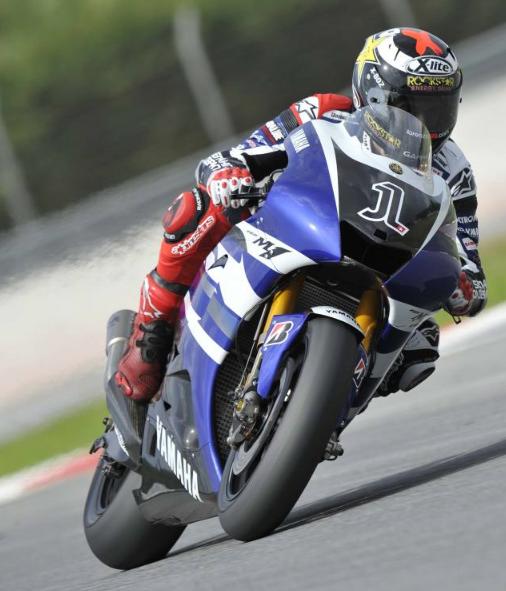 Jorge Lorenzo will be looking for '4 in a row' at Estoril this weekend. Over the last 3 years, Lorenzo has scored 3 consecutive pole positions and 3 consecutive race wins at the Estoril circuit. To further boost his confidence, Lorenzo finds himself arriving at the Portuguese with a 9 point advantage over his nearest rival.
Ben Spies will be looking bank some serious points after being one of many riders who crashed out at the last race at Jerez
Jorge Lorenzo
"This week we will be in Portugal, a country where I've had nice moments! In Estoril I got my first victory in the MotoGP class in 2008 which I repeated over the last two seasons. The track has turned into a talisman for me and it is the place where the astronaut always comes back. We have been training for a month, and I hope that this makes us fit for a good race. We are in front of the standings, but it is very early and it is just the beginning. This week will also be important since we are testing on Monday and we will certainly be able to check a lot of things for the future set-up".
Ben Spies
"Although I've enjoyed the opportunity to head home and get some chill out time in Texas this break has been way to long for me. The team worked really hard over the weekend in Jerez and by race day had delivered a competitive set up that meant we could fight for the podium. Unfortunately it wasn't to be. I really enjoyed the first practice sessions here last year and was frustrated to have not made the race, I can't wait to get started on Friday morning and see what we can do."
Wilco Zeelenberg
"It seems like Jerez was last year, not the last round! It's a bit strange to have such a long time away from the track during the season but of course we all know the reason. We are really looking forward to Estoril, with the position we have and knowing Jorge is strong here we think he can do a good job and compete for the podium again. It's early in the season and our competitors have made big advances from last year but we are again fighting for the championship."
Massimo Meregalli
"Estoril is a good circuit for Yamaha, it's one of the favourite tracks for Jorge and he always gets good results here, as have other Yamaha Factory riders in the past. Despite not finishing the race at Jerez Ben showed he had the potential to finish on the podium so comes here looking to step forward again. Estoril has extra significance as we secured our Triple Crown for the third consecutive time here last year. We are confident that in the 50th year of Yamaha's involvement in Grand Prix racing we can continue our tradition of success in Portugal."
Popularity: 1% [?]