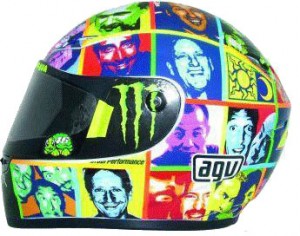 Helmet collectors (with lots of money) might be interested that the Valentino Rossi limited edition Faces helmet is available to order.
As usual, with these Rossi replicas, they are produced in strictly limited numbers, so when stock is gone then it really is gone (at least in the GP-Tech range).
The AGV Valentino Rossi Faces helmet is a replica of the one worn by Rossi at the 2010 Laguna Seca MotoGP as a tribute to all those people who were important to him in his life. So if you have ever had the urge to ride around town with a photo of Jerry Burgess and Uchio on your lid – then now you can LIVE THE DREAM.
Currently available at BikeBandit.com for $719.96. FIND OUT MORE
Popularity: 3% [?]