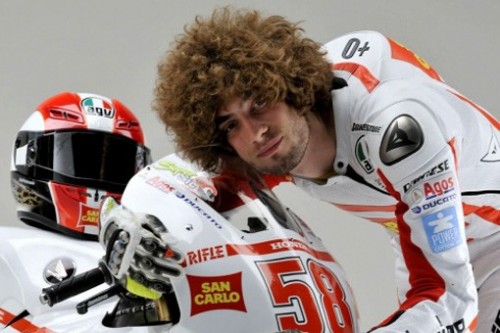 Marco Simoncelli described his performance in the opening round in Qatar as his "best performance in MotoGP", and his personal expectations for Jerez, a track he likes, are high.
Podium finishes will now need to be on 'Super Sic's' radar if he is to step up fully in an attempt to become one of 'the aliens'.
Simoncelli and Aoyama give their thoughts as they look ahead to this weekend's Spanish MotoGP in Jerez.
Marco Simoncelli
"I was happy and satisfied with the race in Qatar. It was my best performance in MotoGP, but more than that I was able to run with the best in the category and finish close to the podium positions. We have started out on the right foot and that should mean we can do even better at Jerez. We have put the little problems we had in Qatar behind us and we have all improved together as a team since last year but we can't think we have made it yet because it's a long season. We know what we have to do to be even more competitive and that is key to the results. Jerez is one of my favourite tracks and I took my first win there in the 125cc class in 2004 so I am confident we can have a good race this weekend."
Hiroshi Aoyama
"Tenth place in Qatar was not the result we were looking for but I was pleased with the work we did over the course of the weekend together with the team. We have gathered a lot of data that will be useful to us in the future, starting at Jerez. My feeling with the team is really good and that is the most positive thing we took from Qatar. I am sure that things will go much better in Spain this weekend. At Losail I didn't get a good start and I only found my pace in the second half of the race. Jerez will be another story because we have the potential now. Jerez is a difficult circuit but I like it a lot. My favourite memory there is my win in 2009, in 250, after a hard battle with Bautista and my current team-mate Simoncelli. That was really nice!"
Fausto Gresini
"Qatar provided us with important confirmation that Simoncelli is already capable of fighting with the best riders in the world. Both he and the team have built on last year and together they can achieve great things. I am proud of all of them, for myself, for San Carlo and the other partners who have believed in this project. Honda have given us a competitive bike and the work we have done with it over the winter and during the Grand Prix of Qatar was splendid. Without the fuel problems related to his size Marco could have been even more incisive but overall we can't complain because we know what we are capable of and how much progress we have made already. Simoncelli is ready to be on the podium and I am sure his objective will be completed soon. I am also happy with the good feeling already established between Team San Carlo Honda Gresini and Hiroshi Aoyama because other than the result at Losail it was a positive weekend and Hiroshi has more belief than ever in the potential of this bike. I am sure that from Jerez Aoyama can make up positions and be running alongside the best too. Jerez is a track that our team love, we have had a lot of great moments there in the past and we hope for more this weekend."
Popularity: 1% [?]