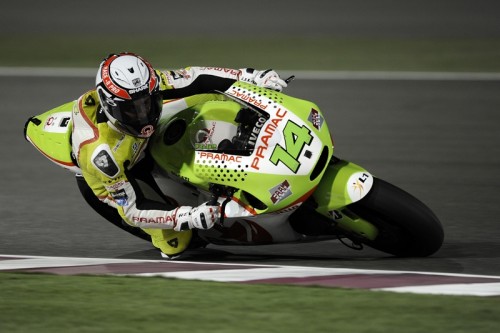 The Pramac Ducati team head out to Jerez safe in the knowledge that it is probably almost impossible for them to do any worse than they did in the opening round in Qatar, where De Puniet crashed out and Capirossi was forced to retire.
Also, Pramac Ducati still seem to be running their press releases through a free online translating tool about 5 times before releasing them. Capirossi and De Puniet don't sound this garbled when they are interviewed. These press releases read like a spam email from someone claiming to be a Nigerian Prince wanting to deposit millions into your account.
Fabiano Sterlacchini – Pramac Racing Technical Director
"We regret the departure of Qatar, but now we think future, then at Jerez. We have the opportunity to redeem after the unfortunate start to the Losail, I'm sure the results will come because the team is working well".
Loris Capirossi – Pramac Racing Team
"The disappointment has passed, now I just think the next race. For Jerez I hope that luck is on our side, as far we had so many problems. I'm fine, I have no problem, apart from the blow to the hand in Qatar and the control of right arm, I should be 100%. Jerez is a track I've enjoyed in the past, and I definitely enjoy racing there. The bike is very better than the beginning, as always, I remain confident".
Randy De Puniet – Pramac Racing Team
"It was not easy starting in a manner so unlucky. But Qatar is now gone, now we look for redemption in Jerez, a circuit I know well. I do not lose sight of my goals, I think only to work hard to improve the feeling with the bike. The progess we have been since the early day test at Losail, then the race went bad. I have to keep up this path".
Popularity: 1% [?]