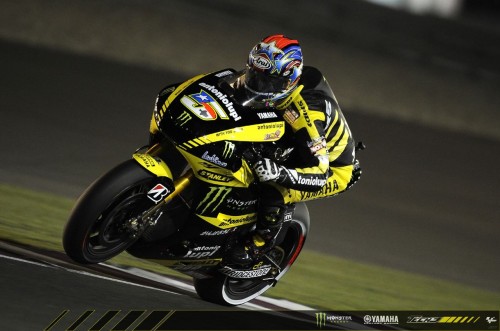 The Monster Yamaha Tech 3 Team made a bright start to the 2011 MotoGP World Championship in Qatar, Colin Edwards and Cal Crutchlow finishing with points scoring finishes in the season opening night race.
Edwards made a blistering start from the 10th position on the grid and was looking to force his way into the fight for the top six when he lost time by running slightly off line at the second corner. Dropping back into 10th behind team-mate Crutchlow, he quickly moved up to ninth to launch a pursuit of 2010 team-mate Ben Spies.
He closely followed his compatriot for the opening five laps, the 37-year-old setting a consistently fast pace in the mid-1.56 bracket. He shadowed the fast starting Hector Barbera until lap nine when he moved into eighth position. But he'd lost too much time trying to overtake the Spaniard to maintain the pressure on Spies and he finished eighth.
Crutchlow made an impressive MotoGP debut at the 5.38km Losail International Circuit having started in front of Valentino Rossi and Edwards on the grid. Hampered again by the nasty left little finger injury he suffered during the pre-race test in Qatar less than a week ago, Crutchlow rose to the occasion brilliantly, fighting for the top ten for most of the 22-lap race.
He was right on the back of a group battling for ninth that was headed by Nicky Hayden, Hiroshi Aoyama and Barbera. But like Edwards earlier in the race, Barbera proved tough to overtake and Crutchlow lost contact with Hayden and Aoyama with three laps remaining. He was rewarded for his determined performance when he swept by Barbera on the final lap to finish a hugely encouraging debut in 11th.
Colin Edwards 8th – 8-points
"That was the best I could do and I'm happy with the way I rode and my guys at Monster Yamaha Tech 3 gave me a good bike as always. A top eight is pretty good considering the speed of the guys in front of me and I was pretty much where I thought I'd end up based on practice. I got a good start and thought the only way I've got any chance of getting a top six is to take a few early risks. I went round the outside at the first corner and made up a couple of places. But I had a couple of moments, one when I nearly ran into Ben, which wouldn't have been a good move. I thought I might have had something for Valentino early on but even when he's not 100 per cent he can still ride pretty good. I'm never happy with eighth but we got some decent points and we can move on to Jerez with confidence."
Cal Crutchlow 11th – 5-points
"I'm pretty happy with that and honestly I'd have liked to have got a top ten after how well qualifying went. I couldn't keep up with the group that included Nicky and Aoyama because it was tough to pass Barbera. They passed Barbera and I then overtook him to chase them, but he got me back immediately and let them get away because his pace dropped off quite a bit. But he's got a fast bike and that makes it hard to make a pass and stay in front of him. I was happy to be in the fight for the top ten for as long as I was and the experience gained is invaluable to help me progress in MotoGP. I wanted to finish and get a race under my belt, so it was mission accomplished. The next couple of races will be tough because I don't know the circuits but I'll be doing my best for the Monster Yamaha Tech 3 squad."
Herve Poncharal – Team Manager
"Colin had a really good start and it was really interesting for the first few laps as he tried to battle with Ben and Valentino. When you look at the final position he was the best non-factory rider and in this field that is a big achievement. It is clear the top seven are really fast but Colin did his maximum with the package we've got. I am also very pleased with Cal. We didn't know what to expect because of his inexperience and the finger he damaged in the test was a bad injury. But he was able to battle with Aoyama and Hayden, who are world champions. It was a good pass on Barbera too, who has a lot more experience than him and that result that will give him more confidence for the next race. In Jerez his finger will be a lot better and I'm sure he can learn the track quickly, so we are looking for another positive result."
Popularity: 1% [?]