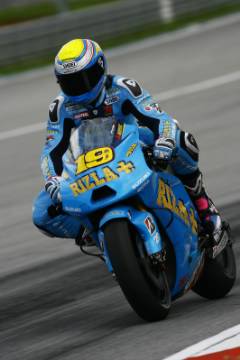 Alvaro Bautista was forced to end the final day of MotoGP testing in Sepang earlier than intended due to illness.
Bautista threw up in his helmet on an outlap and was forced to retire back to his hotel. Suzuki test rider Nobuatsu Aoki stepped in (presumably with a new helmet) to test and gather data for the Rizla Suzuki team.
Paul Denning – Team Manager:
"Despite today's physical problems for Álvaro we have to be satisfied with the work we've got through, especially considering that it was raining so heavily for a few days before the test. It's difficult for us to draw big conclusions – because the Suzuki has always shown good potential in Malaysia – so the guys have been very careful to make sure that all the test results are related as much as possible to improving the areas we need to rather than looking for the ultimate Sepang setting. This meant a lot of work on old tyres and a lot of laps! Alvaro was awesome on the first two days and is starting to look like he really owns the bike now; we all know he's a racer rather than a tester so the lap-times are encouraging.
"Nobu stepped in today and did a lot of very detailed work, so the day certainly hasn't been wasted. Thanks to him and the full team – it's been a tough winter for everyone at Rizla Suzuki, but we're all very committed to doing the best we possibly can in 2011."
Popularity: 1% [?]