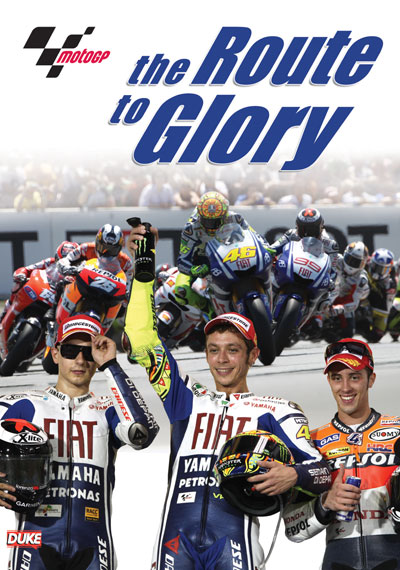 For all those suffering withdrawal symptoms due to the off-season, then Duke Video may have something to ease the pain slightly.
They have just released a new DVD called "MotoGP: The Route to Glory", which is basically conversations with current and past MotoGP legends interspersed with exclusive race footage. Each racer talks about their own personal path into premier class racing and discuss the ups and downs of their chosen profession.
We've not seen it yet, so can't comment on how good it is, but we suspect it may not go into a huge amount of depth as it is only an hour long – anyway, might make a good stocking filler or a welcome bit of respite over the Christmas period. It is available now, and the best pricing can be found on Amazon.co.uk
and Amazon.com
.
The Press Release:
Now fans can discover how Grand Prix World Champions are created, with the new DVD MotoGP: The Route to Glory, from Duke.
In this official MotoGP documentary, many of today's greatest MotoGP stars open their hearts to discuss how they got started, the influences, challenges and emotions which shaped their journey to the top and how they have coped with the absolute joy and massive pressure of becoming World Champion.
The programme features extensive, intimate interviews with Valentino Rossi, Jorge Lorenzo, Nicky Hayden, Casey Stoner, Dani Pedrosa, Andrea Dovizioso, Alvaro Bautista, Hiroshi Aoyama, Julian Simon, Mike di Meglio and Britain's own Bradley Smith.
Plus viewers hear from legends Wayne Rainey, Eddie Lawson and Kevin Schwantz on what it takes to become World Champion.
MotoGP: The Route to Glory includes stunning race footage as viewers watch the stars progress from national championships, into Grand Prix racing and on to their first points, first wins and first championship victories.
However, most revealing is the early footage, including personal home videos, showing Rossi racing karts as a child, Pedrosa and Lorenzo on dirt bikes, Aoyama and Dovizioso on mini-motos and Hayden in his very first road
races.
Each racing great reveals their personal Route to Glory, comparing the benefits of motocross and mini-motos in the early years, the involvement of key figures like Alberto Puig, the lucky breaks, the sacrifices and the determination to succeed. They recall the emotion of their Grand Prix debut, the passionate commitment it took to win, how they deal with injury and setback, and explain what they think it takes to become World Champion.
These men are among the chosen few to have challenged for MotoGP World Championship victory, and this is the story of their Route to Glory.
Where to buy 'MotoGP Route To Glory':
US:

UK:

Popularity: 2% [?]