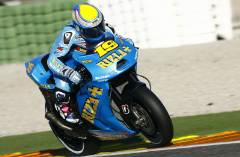 The Rizla Suzuki squad and Álvaro Bautista have concluded the final day of testing at Valencia with a very encouraging result as Bautista recorded the seventh quickest time of the day.
Alvaro Bautista took almost a second off his previous best lap-time from both the race weekend and yesterday's testing, as he moved to just over half-of-a-second off the quickest time of the day.
Bautista tested various chassis configurations and several settings, along with evaluating new bodywork for the Suzuki GSV-R and numerous other parts in a thorough and comprehensive test programme. The whole team got through a significant amount of work and with the information collected at this two-day test, the engineers back in Japan will certainly have plenty to work with during the winter months.
Rizla Suzuki, Bautista and the rest of the MotoGP paddock will now face an enforced winter testing ban that begins on December 1st and ends on January 31st. The next test will be at Sepang in Malaysia in early February, with the 2011 season due to kick-off at Losail in Qatar on Sunday 20th March.
Álvaro Bautista:
"Today has been another good day because after testing the new forks yesterday and getting a good base setting, I was able to go straight out and improve my lap-time. We continued through the day to test other stuff and I tried a new frame with new specifications, and I quickly felt it was much better than the old one. That means that we have made a step forward and with it I was able to do my best time. At the end of the day I tested some new compound Bridgestone tyres, there were three different styles, but I didn't feel much difference between them all. I am happy because the whole crew has done a good job today and I want to say thank-you to Suzuki because I think we made steps forward at this test and with the data from here I hope they can bring me some more new and better stuff from Japan for the test in February."
Paul Denning – Team Manager:
"It has been a very positive end to what has been a difficult season. We found a decent step forward yesterday compared to the race weekend and took more steps forward today. We have found something, based on today's data at least, that may help Álvaro get the best out of the GSV-R on new tyres, which has been a weak point for us this year both in qualifying and in the first few laps of the races. We all know that he is a race-day guy and not a testing guy and that he always finds additional performance in the races themselves. So, for him to end up in seventh place and only 0.6 seconds from the fastest rider is a very positive result.
"Thanks to everyone involved with the team throughout 2010, hopefully today's test will enable the Factory to have some interesting material prepared for the test in February and we can continue to take the next step forward."
Popularity: 1% [?]