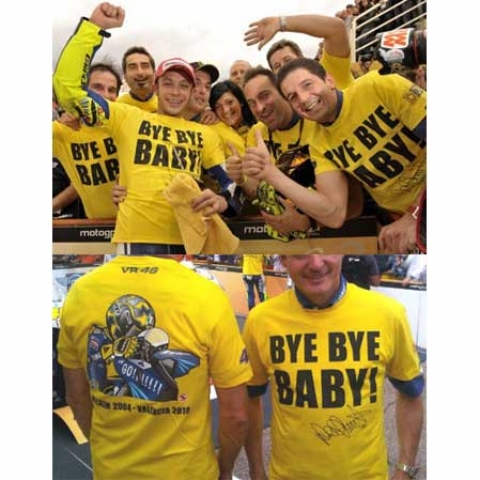 Wow – that was quick!
Valentino Rossi's 'Bye Bye Baby' T-Shirt is now available to order online at OnPole.com .
This T-Shirt design was worn by Valentino Rossi after the final race of the 2010 MotoGP season at Valencia as a tribute to the 7 years that Rossi spent at Yamaha (before he leaves to Ducati).
The T-Shirt features the slogan 'Bye Bye Baby' on the front, and the rear features a cartoon Rossi kissing his Yamaha after his first win for the team at Welkom in 2004. The shirt also featured the slogan "Welkom 2004 – Valencia 2010″.
This is official Valentino Rossi merchandise and is being made in strictly limited numbers, so get one quick if you want one.
The T-Shirt is available now from OnPole.com for £33.99 ($55.16 / €39.16) with worldwide delivery available. BUY IT HERE
Popularity: 9% [?]