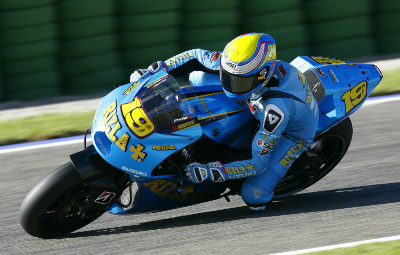 Rizla Suzuki started up their 'one man band' at Valencia today for the first day of the official MotoGP test session.
Rizla Suzuki confirmed that they will run only bike in the 2011 MotoGP season, but remain serious about returning to a two bike team for 2012 when the 800s are retired.
Alvaro Bautista has a lot of work to do as the sole rider and tested many new and re-designed parts for the Suzuki GSV-R in today's test. Bautista made steady progress and managed to improve on his times continually despite conditions being considerably worse than the race weekend due to strong winds blowing across the circuit.
Bautista was able to compare a range of two specifications of Öhlins front forks, new rear swing arm, different settings and various other items in the time that was available. The whole team finished the day in a very positive frame of mind and all eager to continue with the test tomorrow.
Rizla Suzuki has one more day at Valencia tomorrow to continue with the evaluation of the Suzuki GSV-R in readiness for next season, before the winter testing ban comes in to force at the end of this month.
Álvaro Bautista:
"Today we have had a good test even though we lost some time due to the rain. We started with the base setting from the race so we could get the feeling of the track, it was a bit different out there because there was less grip and it was very windy, this made it more difficult to ride than during the weekend. We tested two different front forks and one felt the same as the ones I'd used in the race, but the other one was much better overall. It helped me in the mid-corner braking, because it gave me more confidence to release the brake than it had done before and this gave me more speed so I could exit better. I also tested a new swinging arm, it was not a big difference but it also helped a little. I am very happy with the first day because I've done close to my best time and the conditions were much worse than in qualifying. I'm looking forward to tomorrow because we have more things to test."
Paul Denning – Team Manager:
"Álvaro and the team have completed a very solid first day's work and given that the conditions were worse than race day, we can be pleased with the relative performance as well. We've struggled to generate grip and feedback in colder conditions and the track temperature was right down today, so this is also a step in the right direction. We've got roughly the same volume of work to get through tomorrow, so fingers crossed that the weather will remain good enough to get things done properly and we can take some more steps forward, before Alvaro and the team get a little down-time at the end of a long season."
Popularity: 1% [?]