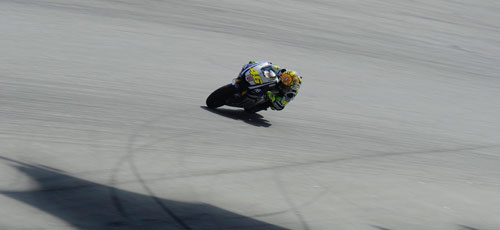 Valentino Rossi scored his first MotoGP victory since the opening round in Qatar at the Malaysian MotoGP today.
His team-mate Jorge Lorenzo will steal the headlines after claiming 3rd place and the World Championship, but Rossi produced a stunning performance that saw him claim victory after slipping back to 11th position after a poor start.
Rossi's victory also marked his 46th win for Yamaha.
Valentino Rossi – Position: 1st Time: 41'03.448
"This is a wonderful moment for me, I am so happy to win like this and take my 46th win with Yamaha on 'my' M1. It was one of my worst starts and for a moment I was really worried, but within a few corners I understood that I could go for it, because my bike felt great today thanks to a small change we made in warm-up, Jeremy's idea really worked! I rode so well and it was a fantastic race, one of the best of my career I think. I wanted this 46th win so much because as everyone knows it's a special number for me! Thanks to my team because everyone worked so hard this weekend and I think this is a great repayment for everyone. To win like this, from 11th at the first corner, is a great feeling. Finally I want to say congratulations to Yamaha and to Jorge; he has been fast all season, at all tracks and in all conditions and he deserves to be the World Champion."
Davide Brivio – Team Manager
"What a race! It was a fantastic race and great weekend because we had a difficult day yesterday and could only qualify sixth, but the team did a great job to change the bike and Valentino felt very comfortable in the race. He rode very well, making the fastest lap in the race and coming from 11th position and 2.5 seconds down on the leaders on the first lap. This milestone 46th win was a great way to celebrate Valentino's amazing time with Yamaha. It's a wonderful day for Yamaha all round because Jorge is the World Champion so we say congratulations to him, he's been very strong this year. All of our team are very happy today! Now we're looking forward to Australia, another great track for Valentino, and we hope his victories are not over with yet with Yamaha."
Popularity: 1% [?]