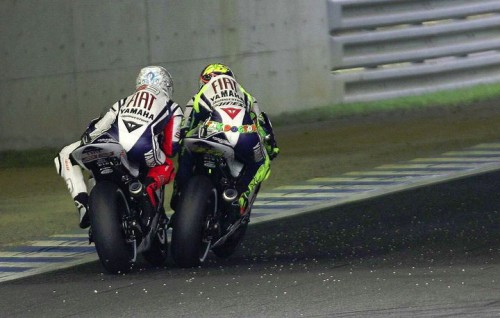 [Photo Credit: Martin Heath ]
Valentino Rossi and Jorge Lorenzo treated the crowd at Motegi to a fantastic battle that saw both riders clashing with each other for the final podium place in Japan. Rossi was the victor in the clash and took 3rd position in the Japanese MotoGP.
Words were exchanged afterwards between the two riders and Jorge Lorenzo voiced his frustration with some of the moves that Rossi put on him, claiming that "some of his moves were maybe a bit too much and he touched me and pushed me wide when I don't think it was right"
Clearly no team orders are in place at Yamaha at the moment. Full interviews with Rossi and Lorenzo below as both riders reflect on their battle at Motegi.
Valentino Rossi Position: 3rd Time: +5.707
"What a great race! Of course I would have preferred to be battling for the win but anyway it was a great feeling, a real show and I want to congratulate Jorge because he was very strong and didn't give up! Unfortunately I lost time at the start when he passed me so Stoner and Dovizioso got away, and by the time I passed him again they were too far ahead. At the end I was tired and my tyre was sliding a lot, it was a bit softer than I would have liked, so I knew I was going to be in trouble but I wanted the podium so much. Jorge came back at me and we had a great battle, proper racing – I think everyone watching enjoyed it. It's been a great weekend because we expected it to be difficult but in fact we've been strong in every session and worked very well on our bike. The shoulder is okay at the moment so let's go to Malaysia and see if we can continue like this, or better!"
Jorge Lorenzo Position: 4th Time: +6.221
"This was a big battle between Valentino and I, two warriors with the killer instinct. I have to say that at some points I do not think he was completely fair, we were both on the limit but some of his moves were maybe a bit too much and he touched me and pushed me wide when I don't think it was right. We are team-mates, I am fighting for the Riders' Championship but we are both fighting for the Teams' and Manufacturers' Championship as well and we have to remember this. I am disappointed to miss the podium of course because I wanted one at Yamaha's home, but this is racing. We chose to ride with the old engine to be safe and then I wasn't getting the best feeling from the front tyre, so things weren't perfect for me, but anyway we took some good points. We are very close to getting our dream and I really hope we can do it next weekend in Sepang."
Davide Brivio Team Manager
"The podium was our main target and it's been a very good weekend. Valentino was fast since Friday afternoon and I think the team did a great job today. We had to change our tyre choice after warm-up and make some small adjustments to make it work properly, but he made the fastest lap and had a very good pace throughout. Then we had this exciting battle in the last laps, which was thrilling. When two strong riders have the chance to fight like this it is always going to create a lot of enjoyment and Jorge didn't give up, but it was better for Valentino this time! We hope to see more of this for the fans and everyone watching."
Wilco Zeelenberg Team Manager
"We just need a few more points! This wasn't a perfect race for us and we struggled a bit when the track changed after Moto2, especially at the hard braking in turn one, but our target was to play it safe and take points so we are happy. Of course the end of the race was exciting, but Jorge is a winner and even with the situation with the championship he was never going to give up on the final podium spot easily. It was a great battle between the two strongest riders in the world but they are team-mates and Valentino took too many risks and touched Jorge a couple of times, which should not have happened when Jorge is fighting for the championship. Anyway, considering the front-end issues and the fact that we chose not to run the new engine, we have to be very happy with these points and now we are all just focused on Sepang and the possible championship victory there."
Popularity: 5% [?]