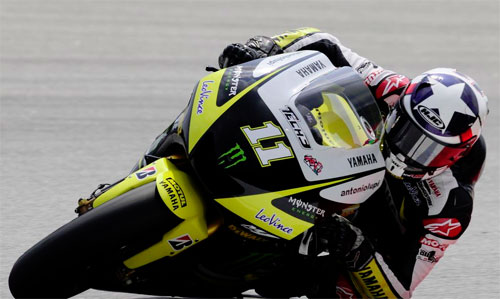 Ben Spies scored an impressive 4th place finish in the Malaysian MotoGP, and saw his future team-mate Jorge Lorenzo finish in 3rd position to take the 2010 World Championship.
Spies now has 152 points and is in a strong position to fight for a top 6 finish in the championship standings.
Colin Edwards had another weekend to forget as he crashed out on lap 10 and was forced to return to his garage for repairs. Edwards returned back out on track to try to claim some championship points by finishing in 13th place – unfortunately his efforts were unrewarded as he missed the cut-off for scoring points by just one lap.
Ben Spies 4th – 152 points
"I got a reasonable start but I suffered with the left side of the rear tyre not coming up to temperature as quick as I'd hoped. But once it did it worked great and I was able to fight my way through to another really strong result. I was behind Nicky for a while and got stuck there but once I got by him I was reeling off 2.02s to get into fourth and I was happy with my race pace. I knew I couldn't get third and that was a little frustrating because looking at the times of the top three, if I could have got away with them I really feel I could have been there. I know Lorenzo wasn't pushing like his life depended on it with what he had at stake but I could have been closer to the front. It was still a good race for me and I made some good passes and I'm looking forward to Phillip Island now. Finally, I'd like to congratulate Jorge and Yamaha. Jorge has been fantastic all season and he definitely deserved to win the title. He hasn't made a mistake and I'm really looking forward to working with him in 2011."
Colin Edwards DNF – 81 points
"That wasn't an easy race at all. Right off the line I felt good and made a couple of passes but I understood from the start that I had small problem with the front brake. At one point I nearly ran into the back of Ben and that made it really difficult in all the hard braking points and there are plenty of those at this track. Once I adapted to that I was having some issues with the front tyre. I'd had a couple of moments over the weekend but after about four laps I was struggling to hold a line. I was still pushing hard because I was in a good fight when I crashed at turn four. I don't know whether it was the brake or the tyre or a combination of both that put me down but it was one of those where I was waiting for it go. I wasn't going to give up, run wide and let a load of people fly by but just lost the front. I went back out to try and score some points but unfortunately I was one lap short of being classified. I wasn't going to get in the way of Valentino, Andrea and Jorge, so I got out of the way and that lap cost me a finish. Finally I'd like to congratulate Jorge and Yamaha. They've been an awesome combination. He's been the fastest rider all year and he'll be the man to beat next season that's for sure."
Herve Poncharal – Team Manager
"On behalf of everyone in the Monster Yamaha Tech 3 Team, I'd like to congratulate Jorge and Yamaha for their fantastic achievement this season. Jorge has demonstrated all year that he has been the fastest rider and his consistency has been very impressive. It was also a good day for the Monster Yamaha Tech 3 Team and once again Ben was outstanding. He wasn't as fast as he would have liked to be in the early laps but once he found his rhythm he was easily the fastest rider behind the top three. Once again he made some really exciting overtakes and I think a big crowd here today enjoyed watching Ben. It is a big shame for Colin because he deserved more for all his efforts this weekend. Unfortunately he crashed while pushing hard to improve his position. We fixed his bike so he could try and get some points and I want to thank Colin for going back out and trying his best for the team. It was unfortunate that he just failed to complete the required number of laps but we can look forward to both Ben and Colin having a successful race in Australia next weekend."
Popularity: 1% [?]