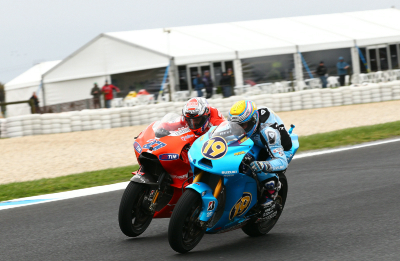 Loris Capirossi (P10, 1'43.984, 21 laps) made his way into the top-10 as conditions improved towards the end of the first practice session, as the winds that had brought torrential rain and a two-hour delay before the MotoGP riders could go out on track, then dried the circuit enough to show a dry line.
Álvaro Bautista (P14, 1'46.160, 24 laps) produced a strong performance in the very wet conditions and was also manging to break into the top 10 on a regular basis throughout the session, but had to make do with a 14th place finish by the end.
The wet and cold weather meant that track temperatures only reached 10°C, exactly the same as the air temperatures. Heavy rain is also forecast for tomorrow's qualifying session.
A dry practice session before Sunday's race may be a luxury that none of the teams get to enjoy this weekend.
Loris Capirossi:
"It's been a tough day because until nearly four o'clock we didn't know what we were going to do! The conditions in the practice were a little bit crazy in the beginning, not because it was wet, but because the air and the track were so cold. It was hard to warm the tyres and with it being so cold it made my condition worse than in Sepang last week. You have to move your body a lot here and there are many right turns so that put extra pressure on my foot as I moved my body and that gave me a bit more pain. Overall the session was not too bad and we're now really looking to see what will happen with the weather tomorrow, because I want to do a good job here at Phillip Island. This is one of my favourite tracks and I really love to ride here, but with the conditions as they are we don't know how our bike will go here this time. We have struggled in the past, but I am crossing my fingers because I really hope that we can go well this year."
Álvaro Bautista:
"It's been a strange day today, because we have practiced two hours later than usual, so this has made the start to the weekend very different. At the beginning it was very wet and I just tried to get as many kilometres as possible in those conditions, because so far this year I've only ridden in the wet twice. I didn't have a feeling of much contact with the track at the start of the session – it was like I was floating – so I went into the garage and made some changes, but when I exited again the track was starting to dry and this made it very difficult because some parts were very wet and others dry. This was a shame because we couldn't tell if the modifications we made were better or not. It was good to have the opportunity to ride here in the wet and we'll have to see what tomorrow brings. If it rains then we need to decide whether we keep working in the direction we were going today, or if it's dry then we just have to start from the beginning."
Stuart Shenton – Crew Chief Loris Capirossi:
"It's been a bit of a steady start for us today, obviously the conditions were far from ideal and probably the cold was our biggest opponent today rather than the rain. It took a while for us to get going and for Loris to get into a groove, but at the end the wet setting we used didn't seem to be too bad. There are a couple of things we will need to iron out if it continues to be wet, but we'll be ready for that, although we'd certainly hope for better conditions over the weekend."
Popularity: 1% [?]