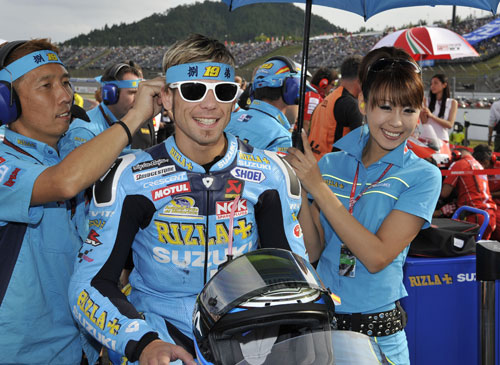 Mixed fortunes for the Rizla Suzuki riders in Japan. Loris Capirossi, who has an excellent record at Motegi, failed to finish due to a mechanical error with his bike that caused it to shut-down on lap 22. Capirossi's misfortune was a blessing for his team-mate Alvaro Bautista, who was right behind Capirossi at the time and slipped past easily into a 7th position finish.
The timing of the issue was unfortunate for the fans, as both Rizla Suzuki riders looked to be squaring off for a head-to-head battle to the finish. It would have been interesting to see the experienced Capirossi duelling it out with Bautista for the first time this season.
Álvaro Bautista:
"It was not a good, but also not a bad result! We improved on our position from the last few races, but I had a problem in the first few laps with the rear tyre because it was just not getting enough temperature in it, this made it difficult to follow the others riders. After three or four laps I got back into my rhythm and saw that I could keep a similar distance and time to the front group, but the gap was too big and I wasn't able to catch them. I am happy with the result and the whole team has worked very hard all weekend, but we need to improve on what happened in the first few laps, because in this category those laps are very important. I hope that in Malaysia we can make steps with this and we'll try to be in the position that I think we should be – which at the moment is in the top-six."
Loris Capirossi:
"Overall the weekend has been quite positive and we have been in a good position all the time – apart from right at the end of today! I started well and got into a good rhythm behind Marco and Colin, at some points on the track I would lose time on them, but in other places I would make a lot of time on them. Then five or six laps from the end the bike started to slow down a bit. I don't know what happened, but then it started to go ok again and then with a couple of laps to go it completely stopped. I am very sorry for the whole team, but it seems the luck is just not with me this season – we will still try to finish the season in the best way that we can."
Paul Denning – Team Manager:
"The whole team is very disappointed for Loris. He rode with a lot of pain all weekend, he showed a consistently good pace and without the failure then sixth position was very possible. He can take some positives from this weekend, the bike package worked well and he loves Sepang, so hopefully next weekend he can go for his best result of the season.
"It was nice to see Álvaro go one better than the last three Grands Prix, again it involved a big fight after being a long way back after the first couple of laps and we could make his life a lot easier with better initial performance from the GSV-R in the early stages. He's been riding well and consistently, his level is increasing step-by-step and we're excited about his potential for the remainder of the season."
Popularity: 1% [?]