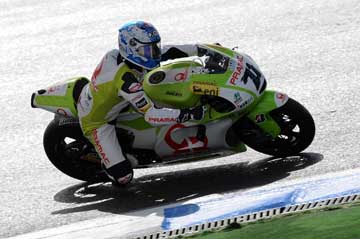 The Pramac Ducati team suffered two DNF's in todays MotoGP.
The lack of track time at this weekend's Estoril MotoGP certainlly took their effect on the returning Carlos Checa who was forced to retire after 13 laps with forearm pain that was preventing him from braking properly.
Aleix Espargaro also have a weekend to forget as he crashed out on the first lap.
Carlos Checa – DNF
"My bike was perfect, but my forearm, unfortunately not. I feel sorry for the technicians who worked for me this weekend and for the Pramac Racing Team, for not having completed today's race. The bike I got to ride in Superbike this year is very different from the MotoGP given to me by the Pramac Racing Team and it never got the possibility to try it on the dry asphalt condition for more than ten laps, this certainly haven't helped me. After six laps my forearm pain was really insufferable, I could not properly use the brake, my lap pace was not very good as the beginning of the race, and because of the pain I could not be able to be as fast as I wanted. I tried to keep it until the end, but the pain was too strong to complete the fifteen laps that had separated me from the checked flag. I hope that in Valencia the weather condition will be kind with me so that I can be able to have a good race weekend."
Aleix Espargaro – DNF
"I cannot understand what happened. I made a very good start by passing from the eleventh to the ninth position after the first sector. My opponents were very close to me and the pace I had this morning had me had high hopes for today's race. Then suddenly, while I was turning in to a curve, even not one of the fastest of the circuit, I completely lost the rear of my bike as I had found a patch of oil or something very slippery. I tried to go back in the saddle, but my bike was already turned off. Too bad because I really had a good rhythm on this track, both in yesterday's practice and this morning during the warm up. My thoughts are now turned to Valencia for the final race of the 2010 World Championship."
Popularity: 1% [?]