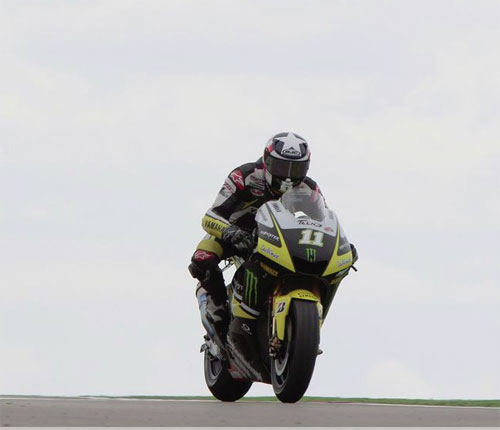 Ben Spies and Colin Edwards made a confident start to the Japanese MotoGP weekend today, the American duo posting competitive lap times to finish inside the top seven at the end of first free practice.
The Japanese MotoGP race was cancelled in April when an Icelandic volcano eruption caused global travel chaos. But when the Monster Yamaha Tech 3 finally took to the Twin Ring Motegi circuit this afternoon, Spies showed his debut performance at the track was well worth the wait.
Spies slipped seamlessly back into learner mode today, the 26-year-old quickly getting accustomed to the 4.801km circuit, which provides a tough examination of braking stability and acceleration with its stop-and-go nature.
A small mistake at turn three while evaluating Bridgestone's soft front tyre compound saw Spies suffer a slow speed tumble. The crash though failed to halt his rapid rise up the timesheets and a best lap of 1.49.302 put him an impressive fifth quickest.
Edwards was also delighted with his progress this afternoon, the 36-year-old finishing seventh fastest with a best time of 1.49.377. Edwards experimented with a new weight distribution set-up that helped corner exit acceleration and he is confident he can fight for a first top six finish of the campaign in Sunday's 24-lap race.
Today's session was run in warm but windy conditions with air temperatures peaking at 26 degrees. Conditions were in stark contrast to the gloomy skies that produced torrential rain for much of yesterday. Sunday's race is the first of a gruelling flyaway triple header with the Sepang race in Malaysia and Phillip Island clash in Australia following in quick succession.
Ben Spies 5th 1.49.302 – 27 laps
"Being in the top five having never seen this track before is a really good start. This track isn't super technical and it doesn't really help us much with all the stop and go sections that hurt us a little bit on speed. It was a little tricky learning the track because the conditions don't seem to be what everybody is used to. So it was even trickier for me trying to build up trust in some corners. I used the soft front tyre at the start of the session and I wasn't too keen on it. I came in for the hard tyre but the team wanted me to do one more stint on the soft and on the second lap of that run I got in deep at turn three. I had to let off the brake to gather it back up but I was trying to keep the bike on the track because I didn't want to get into the gravel with all the rain we'd had yesterday. As soon as I got to the edge of the track I lost the front. I was only going really slow, probably like 10ks, but I landed really hard on my left elbow on the kerb. It's not too painful and shouldn't be a problem for me on the bike. It kind of proved that I didn't like the soft front tyre but the hard one felt good on the spare bike and the rest of the session went pretty smooth."
Colin Edwards 7th 1.49.377 – 24 laps
"It was a decent start and I'm reasonably happy because we tried a new setting today to try and help with a wheelie issue that we've always seemed to struggle with at this track. You've got all this hard acceleration out of low gear corners and we've always found it difficult to control wheelies here. I remember last year it felt like the whole weekend was wheelie management, so we put a lot of weight on the front-end today and it felt good. We were actually moving forward out of the corner under acceleration, so we might have found something that can help us at a few other tracks. Without having to concentrate so much on stopping the wheelie problem, I can focus on accelerating a bit harder and that is helping us a lot. I was really close to sixth and not far behind Ben, so hopefully this is the start of a good weekend for me."
Popularity: 1% [?]