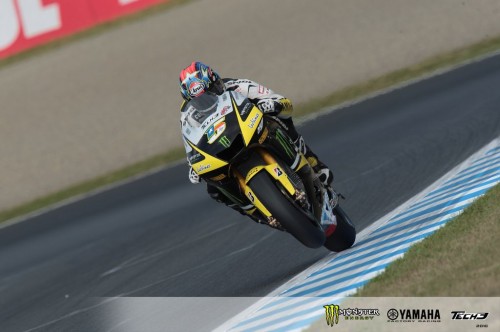 Colin Edwards equalled his best qualifying performance of the 2010 MotoGP world championship today, the American securing a thoroughly deserved fifth place on the grid for Yamaha's all-important home race at the Twin Ring Motegi track in Japan.
And completing an excellent afternoon for the Monster Yamaha Tech 3 Team, Ben Spies was just one place further back in sixth position, the 26-year-old clinching a place on the second row for the sixth successive race.
Experienced Edwards had a productive session as he continued to fine-tune a new weight distribution setting he first evaluated in yesterday's opening practice.
The modifications clearly boosted the 36-year-old's confidence with his Monster Yamaha Tech 3 machine when he elevated himself into second place on the timesheets just before the halfway stage.
It looked like his determined efforts would go unrewarded as he slipped out of the top six in the closing stages, only to deliver a stunning last lap of 1.47.464 to finish just over 0.4s away from pole position.
Today's performance has given Edwards huge encouragement that he can claim his first top six finish of the season in tomorrow's 24-lap race.
Spies was thrilled with his sixth position, a quickest time of 1.47.648 leaving him just 0.184s adrift of Edwards despite his lack of experience at the 4.801km Japanese venue. Spies steadily improved his pace throughout the session despite a small electronics issue preventing him from riding to his full potential.
Edwards and Spies helped Yamaha occupy four places in the top six today and both are confident they can play a pivotal role in tomorrow's home race for the Japanese factory. The race though may provide a completely different proposition with weather forecasts showing rain is expected tomorrow.
Colin Edwards 5th 1.47.464 – 26 laps
"I'm really happy to be on the second row and in fifth position. That is my best qualifying result since Mugello, but I'll admit after this morning's session I was not expecting to be so high up and as fast as I was. Yesterday when I ran the soft tyre I didn't feel like I had enough grip so I hadn't used it all today. I was a bit worried for qualifying that I'd find it hard but we'd played around with the weight distribution on the front again and when I put the soft tyre in this afternoon it felt like a different motorcycle. It did everything I asked it to do and I had a lot more confidence going into the corner. The lap time wasn't easy but it was a lot easier than I'd expected. I think this is probably the happiest I've felt with the bike all year. I've been able to ride the bike to its full potential and I'm confident I can get that first top six finish of the season tomorrow. It is going to be a hard fight but I'm ready for it and I'm determined to get a good result for the Monster Yamaha Tech 3 Team and Yamaha. This is a massive race for Yamaha and hopefully Ben and I can put on a good show with Valentino and Jorge."
Ben Spies 6th 1.47.648 – 27 laps
"I am actually really happy to be on the second row again because at the start of the session I was fighting a lot of stuff with the electronics. The chassis set-up is not so bad but some issues with the electronics made the bike really hard to ride. If we can figure out the electronics the bike will be a lot easier to ride, so having the feelings I'm having with the bike, I'm super happy to be in the top six. Considering the way the bike was working, to be just over half-a-second off pole position is a big surprise because I didn't expect to be so close. The Monster Yamaha Tech 3 Team is working really hard to fix the problems but it hasn't made the task of learning the track any easier. I have to deal with it and I'm still confident that we can be much stronger in the race. Sometimes you have a day when things don't quite work out and it's nobody's fault. I can't complain because when I look at the guys behind me, they have been around this track a million times. That gives me a lot of encouragement for tomorrow but we'll have to see what the weather throws at us."
Popularity: 1% [?]