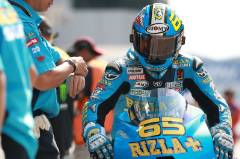 It was rumoured that Loris Capirossi would not be taking part in this weekend's penultimate MotoGP round in Estoril, but Rizla Suzuki have confirmed today that Capirossi will take to the track, despite having been diagnosed with fractures to his foot.
Capirossi returned early from the Australian MotoGP after crashing heavily and injuring his Adductor muscle. Capirossi visited the clinic on his return home to have the injury checked and also had a scan on his foot to fully understand the cause of his pain. This revealed a compound fracture of the Cuboid bone, two micro-fractures of the fourth Metatarsal and severe bruising to the Calcaneus and lateral Cuneiform bones.
Capirossi and Bautista preview the Estoril MotoGP below.
Loris Capirossi:
"It was disappointing to find out I had got some small fractures in my foot, but it won't stop me riding, because I was ok in Australia and it didn't cause me too many problems there – in fact it is easier to ride the bike than it is to walk! I have had some intensive treatment on the thigh muscle and that is also a lot better. I can't wait to get back on my bike and give the guys something back for all their patience and hard-work over the season, especially after the tough three-week tour we had on the other side of the world which gave us nothing but pain and bike damage. Suzuki and the team have always been good to me and I want to show them that I am here to do my best and compete with the best riders."
Álvaro Bautista:
"I really like it at Estoril, I have had lots of success there and it is a track I like to race at – it is as close to my home town as some of the Spanish tracks so it feels like a 'home' GP to me, especially because I know many of my family, friends and fans will be there to support me. I went there with the GSV-R last year so I will have a bit of an idea of the reference points on a MotoGP bike, similar to what I had at Sepang, so hopefully we can be as competitive right from the start in Portugal as we were there. We had a couple of problems at Phillip Island and they have all now been sorted and won't happen again, so we will be able to go right from the start and try to get back into that top-six, where I know we are capable of being."
Popularity: 1% [?]