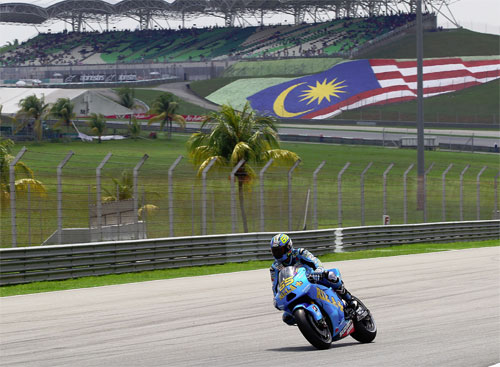 Loris Capirossi took 9th place in qualifying for the Malaysian MotoGP despite have a huge crash in the morning practice session that saw him taken off the track by stretcher to the Clinica Mobile. Capirossi was fortunate to escape with severe bruising to the heel and ankle before being passed fit to ride in the qualifying session.
Alvaro Bautista maintained his solid form and took 8th position in qualifying, but Bautista expressed disappointment with the result due to his previous day's top 5 finish in the practice session.
Both Loris Capirossi and Alavaro Bautista discuss qualifying below.
Loris Capirossi:
"I am a little bit upset about this morning, I felt quite confident about coming here because we did a good winter test and I thought we could do well this weekend, so what happened this morning was very disappointing. This afternoon I tried to ride the best I could, but my condition is not so good so I am pleased to get on to the third row. We will have to see what happens tomorrow, because we are still struggling a bit with electronics – although we did find a solution near the end of the session. I am positive about the race and hope to have a better day tomorrow than I did today. I am happy that I was still able to get on the bike and ride after such a big crash and I will still be trying to do my best tomorrow for the whole team."
Álvaro Bautista:
"It's strange because this has been my best qualifying position of the season but I feel like it is not enough. We still need to be positive about it though because we are in a better position than we have been before and we have to try to make the most of that. I did a long run on the softer compound tyres today and was able to cover a race distance, maybe grip went in the final lap, but in this category the first laps are very important so we still have to decide if we are going to use the softer option and get the maximum early on. I used a new rear tyre at the end of the session and improved my lap-time and in the last lap I made a mistake in T2, but my T1 and T3 was better than my fastest lap so maybe I could have improved my time and been further up the grid. The time between first and me is not too big and if I can get a good start tomorrow I think I can stay with the group in front and follow them – the first laps here will be very important so I must make the most of them."
Paul Denning – Team Manager:
"The Malaysian Grand Prix weekend has been absolutely horrible for Loris so far. This morning's crash was very violent and very painful and it was amazing that he managed to get back out there this afternoon. His crash did mean that the technical improvements that we were seeking were impossible to find with the bike sat in the pit-box. He can't bear any weight on his right foot, so for him to qualify on the third row is simply an heroic achievement. Race distance is going to be very tough, but we thank Loris for his efforts today and hope that his condition is much improved tomorrow morning.
"Álvaro's session was really strange because he didn't find the rhythm or the track position to realise his true potential and when he was in the right position he made a couple of uncharacteristic mistakes. Despite that his qualifying place of eighth is the best of the season and he believes strongly that he can improve during the race – we believe completely in his potential and we're looking forward to the Grand Prix."
Popularity: 1% [?]