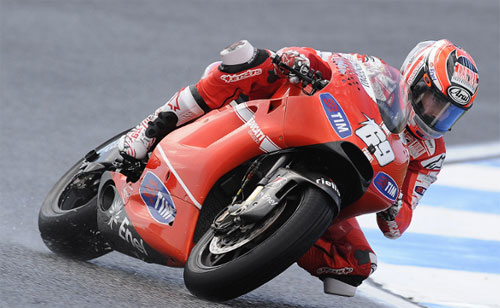 Nicky Hayden and Casey Stoner both showed podium potential for Ducati in Estoril today, however the results did not materialise.
Hayden and Stoner were one half of the leading 4 bikes that were scrapping for dominance at the start of the Estoril GP – the first couple of laps was a Ducati and Yamaha showdown, with Rossi, Lorenzo, Hayden, and Stoner all jostling for superiority.
Stoner looked like the stonger of the two Ducatis and he was threatening to stamp his mark on the race by closing down the gap to Jorge Lorenzo when disaster struck and he crashed out on lap 5.
Nicky Hayden made a good start to lead the race on the second lap, after which the American hung onto third place for a lengthy spell before losing out in a battle with Andrea Dovizioso and Marco Simoncelli in the closing stages, crossing the line just behind them in fifth place.
NICKY HAYDEN – (Ducati MotoGP Team) 5th
"Today was the first time in my career that I have gone out to race in the dry without completing a single lap in those conditions before lining up on the grid. Over the first few laps the bike worked really well, I felt good and I even managed to lead the race which hasn't happened for a while. In the middle part of the race I had a couple of moments on damp patches and lost my feeling a little. I got my rhythm back together towards the end and joined in the fight for the podium. Fifth place alongside a crash for Casey isn't a brilliant result for the team – it has been a tough weekend on everybody but we will try to do better at Valencia."
CASEY STONER (Ducati MotoGP Team) DNF
"There is not much to say today, other than it's a shame, obviously. I was taking it steady over the first couple of laps getting the tyres up to temperature and then I was able to push a little harder to close the gap to the guys in front of me. When I got on the back of Jorge I wasn't pushing as hard as I had on the previous laps but I ran a little off line and lost the front. I tried to save it but I wasn't able to and I am really sorry to all the guys in the team because they have done a good job in difficult conditions to find a good set-up. We will try and make up for it in Valencia."
VITTORIANO GUARESCHI Team Manager
"It has been a very demanding weekend for the whole team, from the riders to the mechanics, in very extreme conditions. They did a great job to make sure our bikes had good grid positions. Obviously having had no time to ride in the dry both Casey and Nicky were up against it in the race and there were question marks over the bike set-up and engine mapping. Casey was riding really well and I am sure he would have been fighting for the podium, as Nicky did after leading the race. It was an unlucky weekend but the bike was competitive at another track and we'll try again at Valencia."
Popularity: 1% [?]