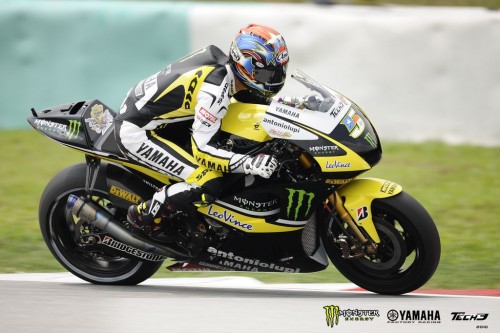 The MotoGP practice session at Phillip Island was delayed by 2 hours due to heavy rain that fell overnight leaving the track flooded and battered by freezing high winds.
Colin Edwards braved the wet and cold conditions at Phillip Island to complete 19 laps of the free practice session and stated that it was some of the worst conditions that he had ever raced in.
Ben Spies finished at the bottom of the timesheets after only opting to complete 3 laps
Both Tech-3 Yamaha riders give their views on the Phillip Island practice session.
Colin Edwards 1.43.013 – 19 laps
"That's got to be some of the worst conditions you'll ever have to ride in. The track was still wet, it was freezing cold and the wind was blowing at 900mph. But after the delay I guess we were just lucky to even get some time on track. The wind was pretty unpredictable and going into the first corner it was unbelievable. Once you pass the finish line it just blasts you from the right and I had to turn my handlebars while I'm going in a straight line just to fight the wind. And then you have to turn the handlebars back to brake. That is all happening at a fast speed and it is a pretty weird sensation. It was a session where the times don't really matter that much so we treated it like a wet test. We played around with all kinds of stuff on the bike. So as miserable as the conditions were, it was still a pretty worthwhile session and we learned a few things that can help us in the rain in the future, particularly with the balance of the bike."
Ben Spies 1.58.613 – 3 laps
"There wasn't a lot to be gained out there today. I did a couple of laps and it is not the rain and the cold, but the wind was so unpredictable it was making it quite dangerous. I couldn't really brake on the right line and to gain anything out there this afternoon I'd have to ride so on the limit that it wasn't worth taking any risks. If it was Saturday morning and it was going to be like this all day I'd have stuck in a full session, but I wasn't going to learn much when the conditions are that bad. I didn't want to risk getting hurt or tearing up any equipment and making the guys have to build up a new bike for tomorrow just because I made a mistake in less than ideal conditions. Hopefully the weather will be better tomorrow and we can get some serious work done because I love this track and am confident of another strong performance in the race."
Popularity: 1% [?]