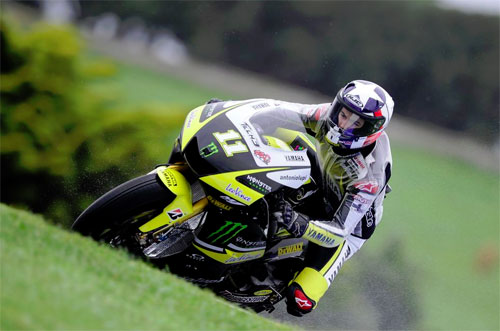 Ben Spies expressed surprise at taking 3rd position in the qualifying session at Phillip Island. Converting this front row start for tomorrow's Australian MotoGP puts Spies in a commanding position to grab enough points to claim the 'rookie of the year' title.
Spies was also in the top 3 in the morning's practice session, which was a stark contrast from the first day's practice session when Spies only did 3 laps of the track due to the adverse weather conditions.
Whatever setting Spies found in the morning session clearly worked and his confidence carried through to qualifying where Spies made further tweaks to the suspension set-up on his YZR-M1 machine to gain crucial rear grip. The modifications paid off immediately with Spies never outside of the top three once a lap of 1.31.387 put him on top of the timesheets with just 19-minutes completed.
Colin Edwards also had a solid session qualifying in 5th position.
Spies and Edwards talk about the Phillip Island qualifying session below:
Ben Spies 3rd 1.31.386 – 23 laps
"I'm really happy to be on the front row again but a little bit surprised. I was really happy with my pace and the lap times earlier in the session but each time I tried to go quicker in the last part I'd have spots of rain on my visor. I'd warm up the tyres and see nothing but as soon as I'd push going into the first corner to start a fast lap, I was getting a lot of rain on my visor. I didn't want to take a big risk when I knew I was already pretty close to the front row. My qualifying time is a pace that I can run in the race, so I'm happy with that. I'm confident because I haven't finished a session thinking I put in a great session. So if we can put everything together and ride really well and the bike is working good, maybe I can fight for the podium. I've got the lap time to make the podium but I just want to make the bike better for the last ten laps of the race. It would be nice to clinch the Rookie of the Year title tomorrow. It would be another box ticked in what has been a really positive season so far."
Colin Edwards 5th 1.31.415 – 26 laps
"It was almost my best qualifying result of the season but I'm happy with fifth and being so close to Ben on the front row gives me a lot of confidence for the race. I have felt really good on the bike today and finishing second this morning gave me a lot of confidence. I had a fairly good set-up this morning with the bike but I was just missing a little bit of turning performance. We left the bike for the start of qualifying and I was basically doing the same lap times as this morning. So we made some changes to the front for my last rear tyre and immediately I was able to go half-a-second faster. It just felt easy and I gained so much confidence that I could put the bike where I wanted it to be on the track. I'm happy with my race pace and I'm ready, so hopefully I can get my best result of the year. We'll have to see what the weather throws at us but I'm ready for anything."
Popularity: 1% [?]