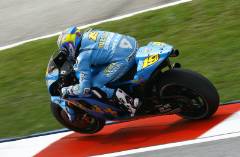 Alvaro Bautista got off to a flying start at the Malaysian MotoGP – Bautista had a strong setting out of the box to take 5th position in the first practice session.
Loris Capirossi struggled to find feeling with his Suzuki and was unhappy to finish the session in 12th position.
Álvaro Bautista:
"I am happy today because we have made a good first practice, it was important that we were able to start with a good setting because we already had a good reference point from the winter tests. It was helpful to have that base setting, but today the conditions were much different from the test and I felt like I had less grip from the rear tyre. I started with the harder rear, but it did seem difficult to get the feel I wanted. I tried both my bikes with different settings and I preferred the second one because it was easier to ride. I put a soft tyre in at the end and did a few laps with that and set a good time. We are still a bit away from the lap-time at the winter test, so we have to improve on many things to get the bike where we want it. We have hard work ahead of us tomorrow and I want to say a big thank-you to all my team, because they have started the weekend very well and we must continue like that."
Loris Capirossi:
"I don't know why I have gone like that today, because normally we go well on this track. I have something not working well because I'm not getting a good feeling in the bike and I don't really know what the problem is. We will have to work hard tomorrow to get it right and then we will see what we can do. We have to look at the data and see what the connection is between that and how the bike is working and make things better for tomorrow."
Paul Denning – Team Manager:
"Álvaro has been consistently improving over the last four Grands Prix and this is his best Friday result by some margin. He knows that qualifying and the first three laps of the race are pivotal to his potential to improve his results and he has come out of the box pushing very hard straight away today.
"Loris is very disappointed to be 12th on day one at a track that he considers to be his favourite of the year; possibly he lost his way a little bit in trying two completely different bike set-ups. Clearly on some parts of the circuit he is very quick – fastest in sector one shows that – and his potential best lap is not far away from the best. He is angry – which is always a good sign – and we are looking for a lot more from him as the weekend continues."
Popularity: 1% [?]